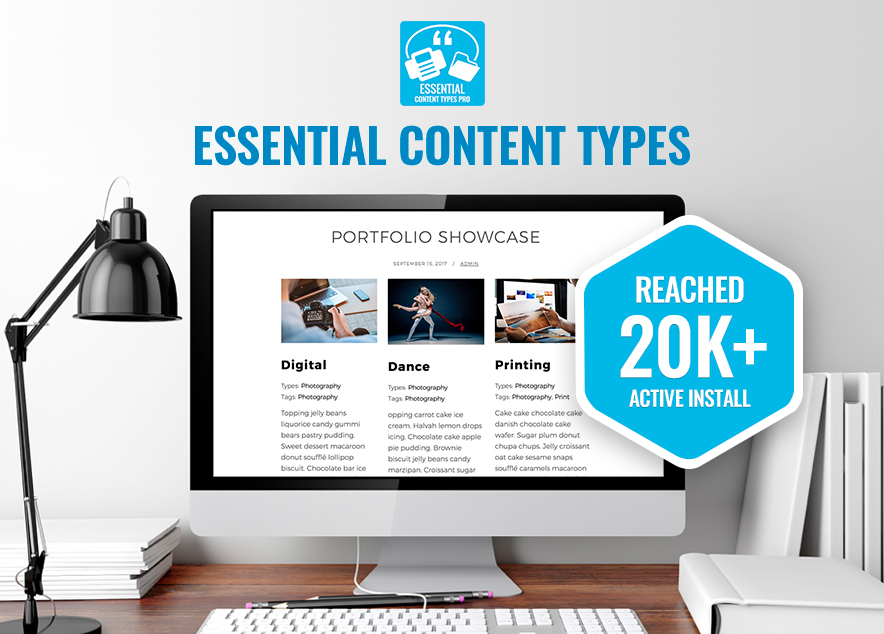 Nothing can beat the level of happiness you get when your work is appreciated by your audience. Likewise, we feel extremely exultant to share that our Essential Content Types plugin has now reached another milestone. The plugin now has crossed 20K Active Installs on WordPress.org.
This milestone where we stand today with 20K+ Active Installs on the .org platform is all because of the love and support from our customers and visitors. Therefore, we, the whole Catch Plugins team would like to thank each and every one of you for showering us with your love.
A little about the Essential Content Types Plugin…
Essential Content Types allows you to feature impressive content through different content/post types on your website just the way you want it. Essential Content Types is extremely lightweight and supports all the themes on WordPress. This plugin is actually inspired by Jetpack's own Custom Content Types. As the name suggests, Essential Content Types has only the "essential" elements. It includes the features that WordPressers use the most.
This plugin allows you to add up to four custom post types — portfolio, testimonials, featured content, and services. It also includes shortcodes, widgets, custom post type, and more.
ECT plugin has it all to showcase your imposing content elegantly and also takes up lesser space.
Click here to download the custom post types plugin without affecting your wallet.
And if you want advanced features like Food Menu, Event, Team, Shortcode button, and various widgets, check out the premium version of the plugin—Essential Content Types Pro.
We are very happy to receive immense support from our valued customers which have helped us reach where we are today. For that, we again want to thank our well-wishers.
Essential Content Types plugin is our THIRD free WordPress plugin to reach this milestone of 20K Active Installs on WordPress.org. Catch IDs and To Top are our other two plugins with over 20K Active Installations. Apart from that, we have six other plugins that have already crossed 10K+ active installs and are on their way to 20K. With your support, the day is not far we have our other free plugins cross 20K Active Installs on WordPress.org.
Receiving love and support from our loyal customers have always motivated us to craft more essential products for them. So, we look forward to bringing you more of our top-notch products in the coming days.
Thank you, everyone, and keep supporting us.
Cheers!