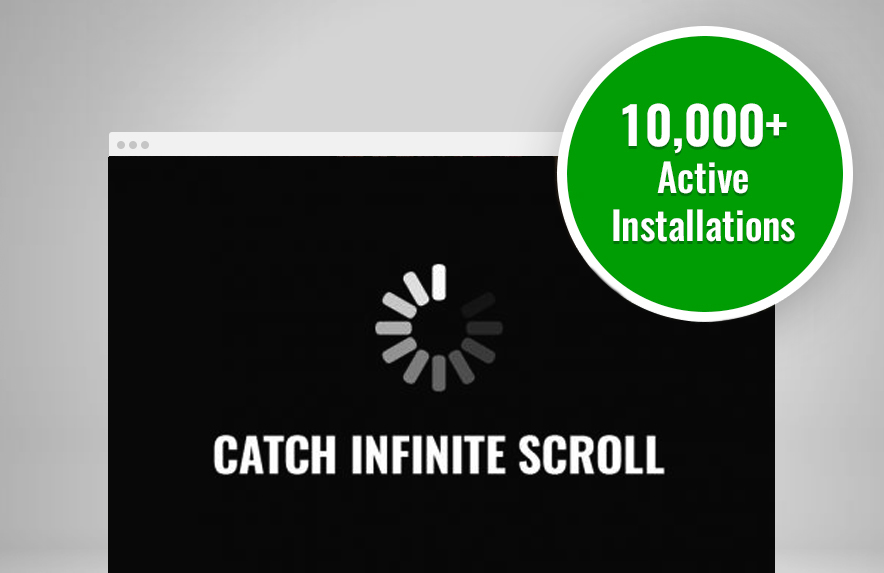 After two of our plugins reaching 10K+ active installs on the .org platform this year (2019), we are very happy to announce our third plugin touching this milestone of 10K Active Installs. Our Catch Infinite Scroll plugin has crossed 10K Active Installs on WordPress.org.
A huge "Thank you" to all our well-wishers from the whole family of Catch Plugins for showering us with your love and support. It is all because of you guys that our Catch Infinite Scroll plugin has stood out among the crowd with more than 10K Active Installs.
Catch Infinite Scroll – Infinite Scrolling WordPress Plugin
Catch Infinite Scroll allows you to add the magic of infinite scroll on your website. The plugin will help in increasing the user engagement on your WordPress site. With the plugin installed and activated, your users will be able to simply scroll down and go deeper into your website.  The plugin will load content automatically as you scroll down the page or you can also add a "Load More" button to load more content.
You will have control over some of the crucial features available in the plugin, such as, choosing between 'Click' or 'Scroll' to load more content, add a custom image, the load more text, and finish text.
Download Catch Infinite Scroll Plugin today and grow the user engagement rate on your website.
Also, if you want more advanced features, you can upgrade to the premium version of this plugin – Catch Infinite Scroll Pro.
It is our seventh free plugin to hit the milestone of crossing 10K active installs on WordPress.org platform. To Top, Catch IDs, Essential Content Types, Catch Web Tools, Essential Widgets, and Catch Instagram Feed Gallery & Widget are our other six free WordPress plugins to have crossed 10K Active Installs.
We, the Catch Plugins family cannot thank you guys enough for all the love and support; it's overwhelming. Your growing love for us only motivates us to craft more products for you. Therefore, we look forward to facilitating you with our top-notch products in the coming days. Keep loving and supporting us!
Once again, Thank you so much, everyone. Cheers!