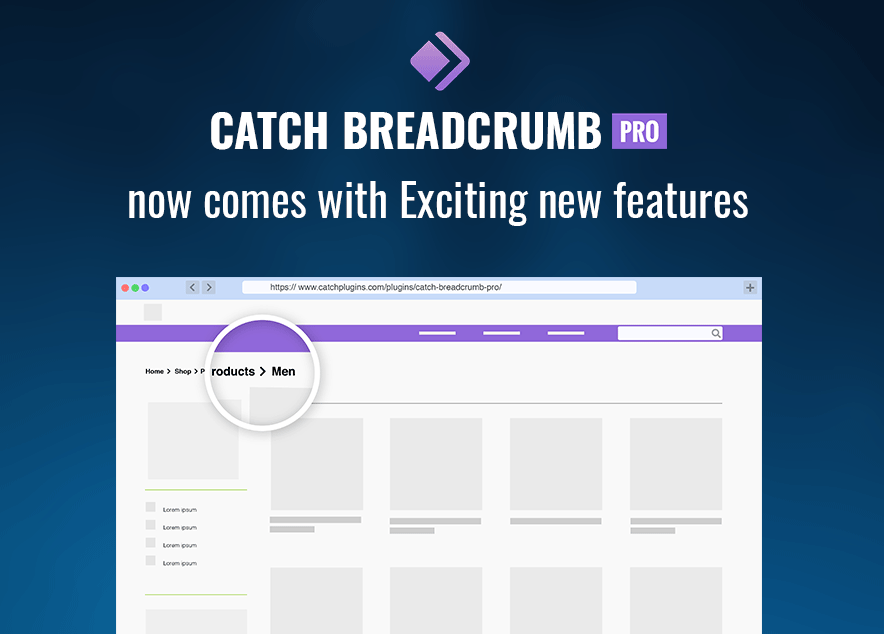 Catch Plugins team is extremely happy to announce that our plugin, Catch Breadcrumb Pro now comes with more features that are sure to excite you.
We believe in providing the best for our customers and keeping them happy with our products. We tend to always look forward to finding ways to make our products more advantageous and flexible for our customers. Similarly, today, we want to announce that our breadcrumb navigation plugin, Catch Breadcrumb Pro now comes with a bunch of new features in it. The additional features include Breadcrumb Border Styles, Font Family Options, Home Icon, Padding and Margin Option, Border Thickness and Radius, and more Color Options.
Catch Breadcrumb Pro is a simple yet feature-rich breadcrumb WordPress plugin that adds seamless breadcrumb navigation to your website. Breadcrumb navigation can be very useful on a website that has a large number of pages like an online shopping portal. The plugin provides customization options, with which you can tweak the settings according to your website and display an elegant-looking breadcrumb trail.
Prior to the updated version, this breadcrumb navigation plugin provided major features like shortcode options, color options, breadcrumb selector, separator, font size option, and more. With these features available in the plugin, you can display the breadcrumb trail wherever you wish.
And now, with the added features in Catch Breadcrumb Pro, the plugin is more lively, exciting, and beneficial for everyone.
Added Features in Catch Breadcrumb Pro:
Breadcrumb Border Style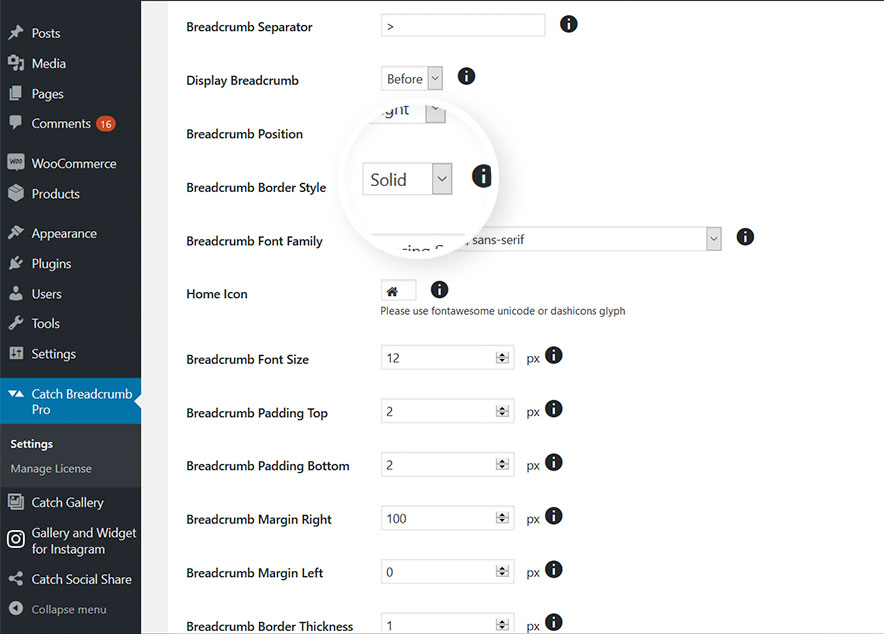 Catch Breadcrumb Pro now allows you to add the border to your breadcrumb navigation trails. Adding border will make your breadcrumb navigation more eye-appealing and engaging. You can select your style from options like Solid, Dotted, Dashed, Groove, Ridge, Inset, or Outset.
Breadcrumb Font Family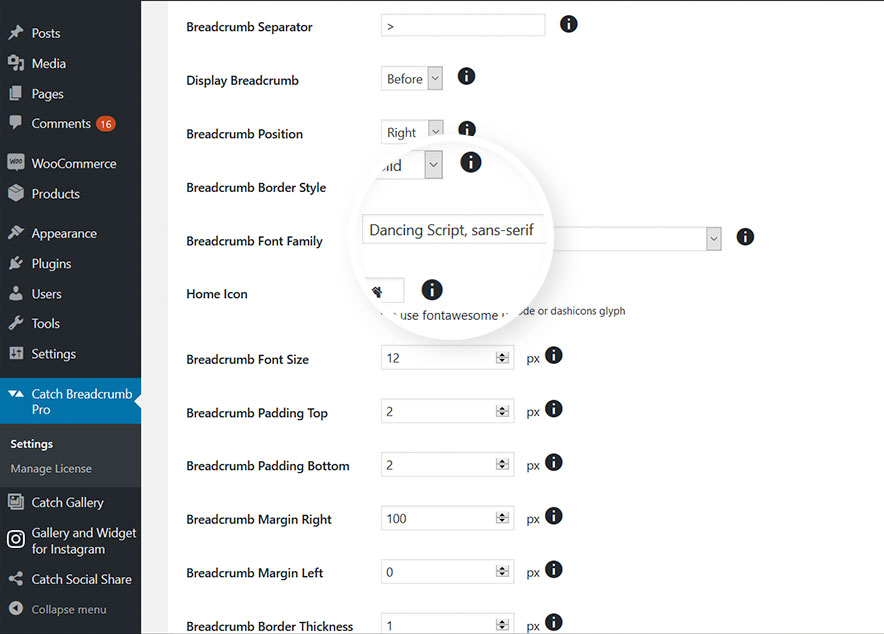 The added font family option in Catch Breadcrumb Pro allows you to select the font you like for your breadcrumb navigation. Please note that this font family option would change the font of your breadcrumb navigation trail only and not of the entire site.
Home Icon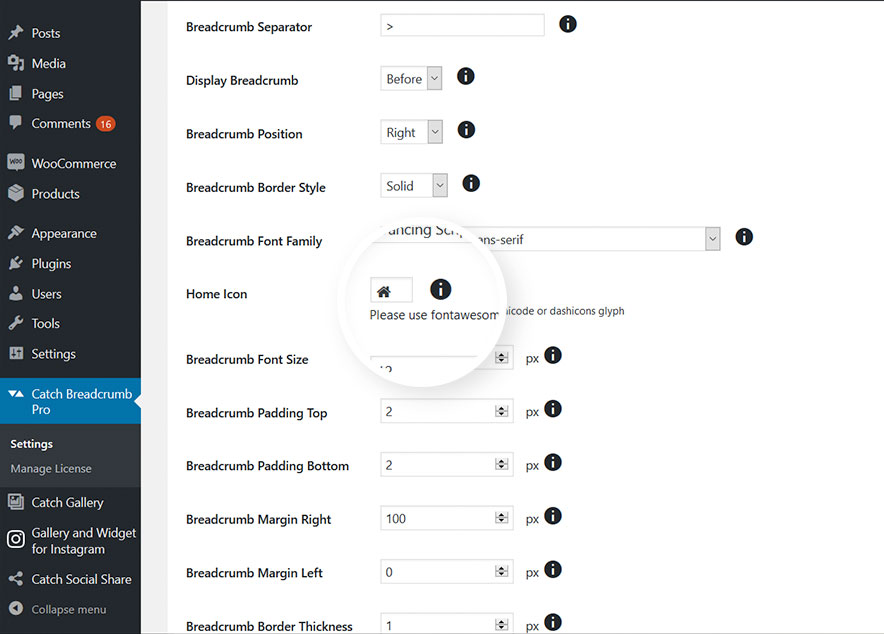 To use the Home Icon feature, you first need to enable the Home Icon at the top of Settings page. Then, you can paste the icon you want as your home icon for the breadcrumb navigation. You can pick your icon from either fontawesome Unicode or dashicons glyph. All you have to do is copy your favorite icon and paste it in the 'Home Icon' field.
Breadcrumb Padding and Margin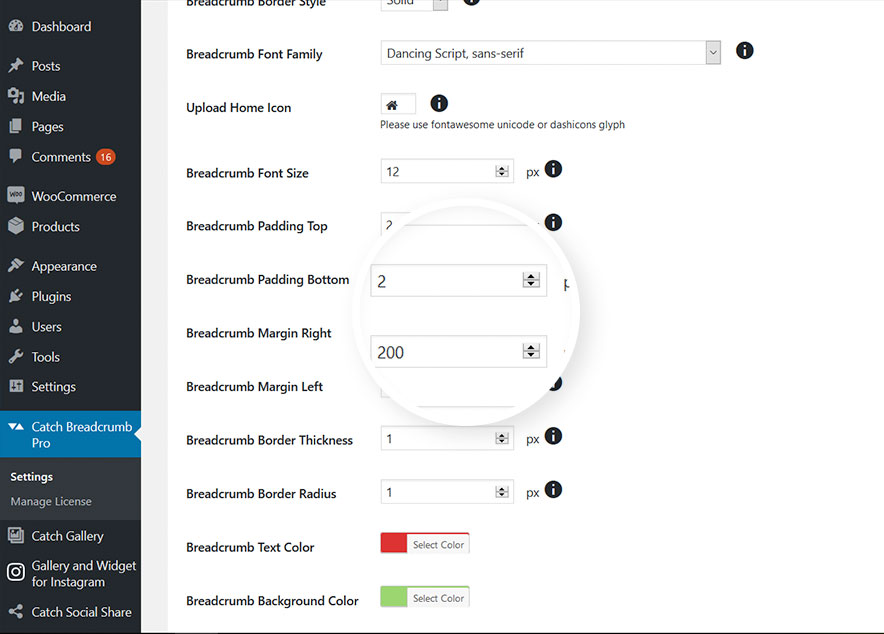 Breadcrumb Padding Option is available for Top and Bottom section of your breadcrumb navigation. You can adjust the padding according to your will. Similarly, Breadcrumb Margin Option is available for Right and Left sides of your Navigation. You can adjust the right and left breadcrumb margin according to your breadcrumb trail's position.
Border Thickness and Radius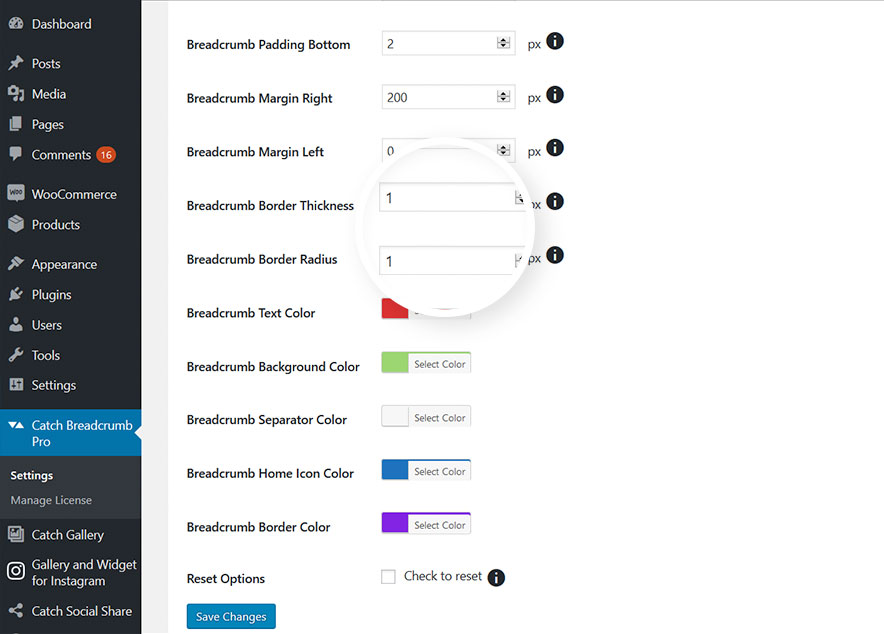 After choosing your Border Style, you can now select how thick you would want your border to be. Enter the thickness that goes along with the look of your site. Some might like it thin to make it more elegant. Whereas, some might prefer the breadcrumb border a little denser to make it bold and eye-catching.
If you want to give your breadcrumb navigation border a tiny adornment, you can make it curvy by tweaking the Border Radius.
Color Option for Home Icon and Border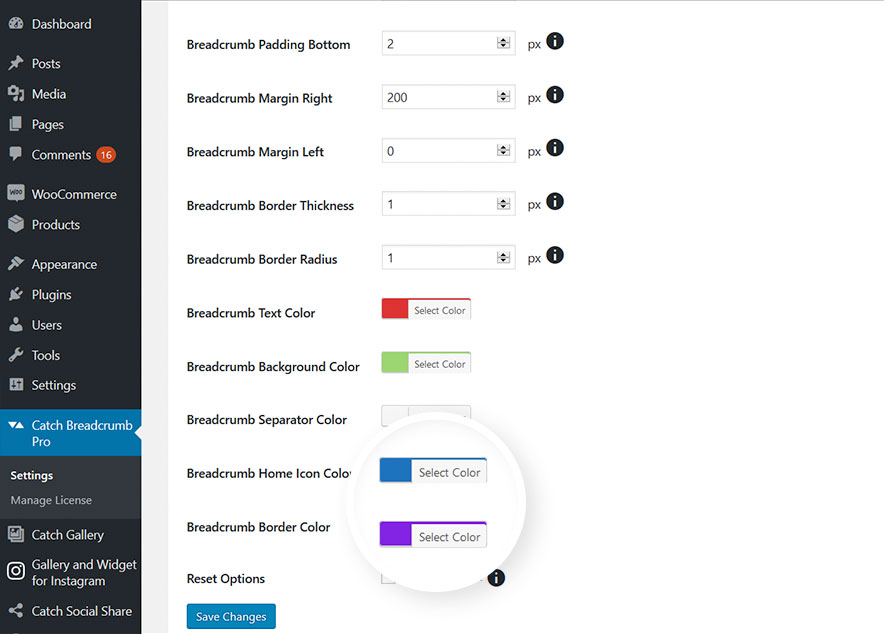 We have added color options for two new sections – Home Icon and Border Color. Your breadcrumb navigation trail needs to suit and add extra charm on your site. Therefore, pick the breadcrumb Home Icon and Border colors wisely to make your breadcrumb trail attractive and artistic.
Finally, with these freshly additional features in Catch Breadcrumb Pro, there is no doubt that you can add an inventive and exceptional breadcrumb navigation trail on your website with ease.
So, why wait? Update to the latest version of Catch Breadcrumb Pro plugin right away! Make your site user-friendly and elegant-looking.