We all know how much we value social media platforms. They've become a vital part of our daily life and it has an immense impact on today's society, especially youths. When you're in the IT business, social media platforms provide an excellent opportunity to promote and grow your business. Be it Facebook, Twitter, Instagram, Pinterest, or any other platform, social media platforms are filled with audiences that are looking for content and opportunities. So, if there are people in every other platform, why not draw audiences from every way possible? Let your visitors share your content in every possible social media platform. How? To help you do that, Catch Plugins proudly presents our new product – Catch Social Share, a social sharing WordPress plugin.
Catch Social Share – A Social Sharing WordPress Plugin | Share what you like
Catch Social Share is a simple yet handy WordPress plugin that allows you to add social sharing buttons to your website. It is available for absolutely free. With a well- designed interface, attractive social icons, and fully customizable buttons Catch Social Share sure is the ideal solution to share your content on different social media platforms. The plugin helps you display social share buttons from seven different popular networks either above or below your content. You can also add text before the Sharing buttons and select its position—right, left, top, or bottom of your share buttons. Not only that, the share button text for each social media platform is customizable. You can also choose where you want your social sharing buttons to be displayed. Its focus isn't just on social sharing buttons, but it also focuses on making your content more user-friendly and keeping visitors engaged.
The plugin is extremely lightweight and simple, but when it comes to features, Catch Social Share is power-packed with essential features and functionalities. It includes features like 7 different social share buttons, show/hide icons, social icon order, social icon position, before share buttons text, text position, editable share button texts, shortcode options, and more.
Major Features in Catch Social Share
Social Share Buttons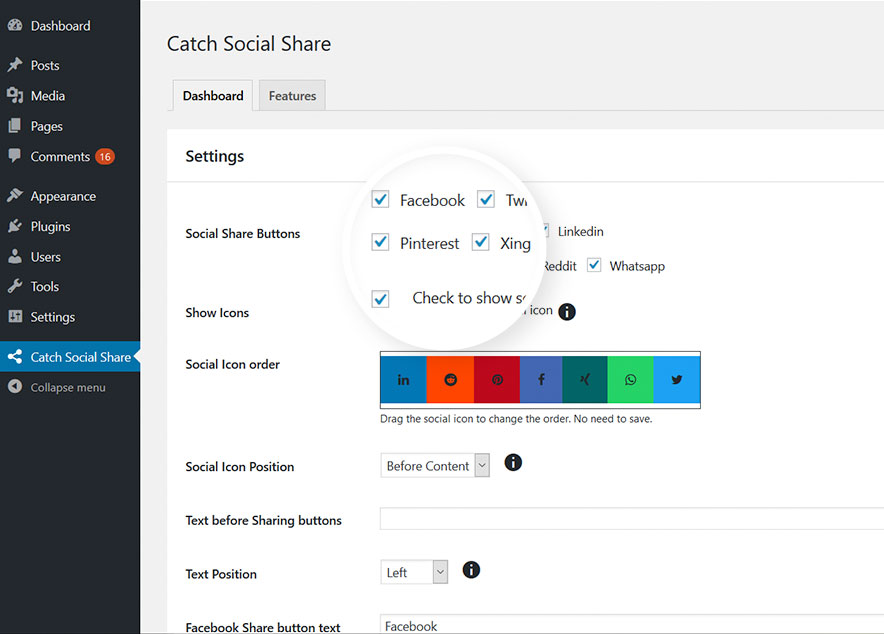 There are seven different social media platforms you can choose from – Facebook, Twitter, Pinterest, LinkedIn, Xing, Reddit, and Whatsapp. All of these social media platforms are on top when it comes to popularity and audience computation. Give your visitors an easy way to share your content in the most popular social media platforms.
Social Icon Order and Position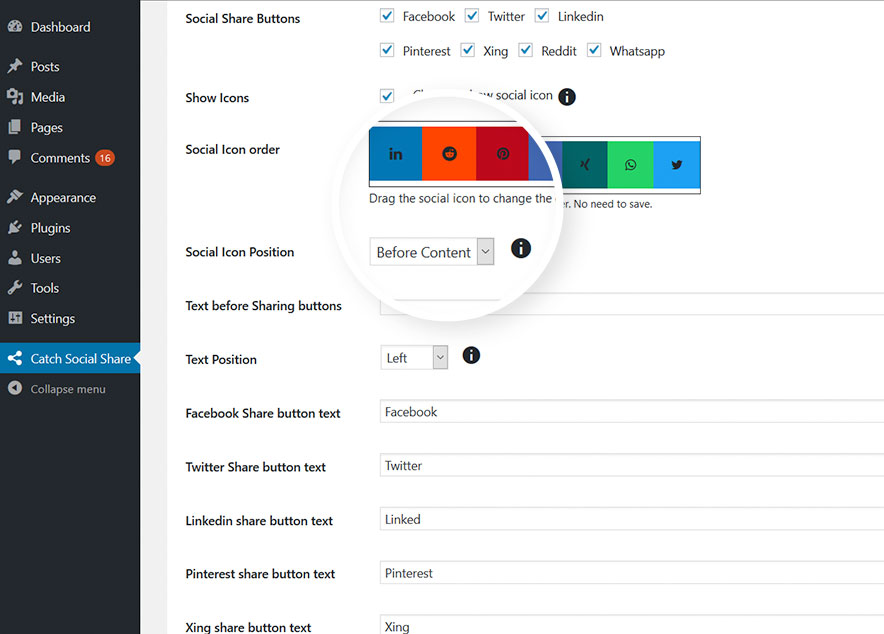 You can reorder and display social media icons the way you prefer. Also, you can choose where you want your social sharing buttons to be displayed. Display them elegantly either before or after the content.
Text before Sharing Buttons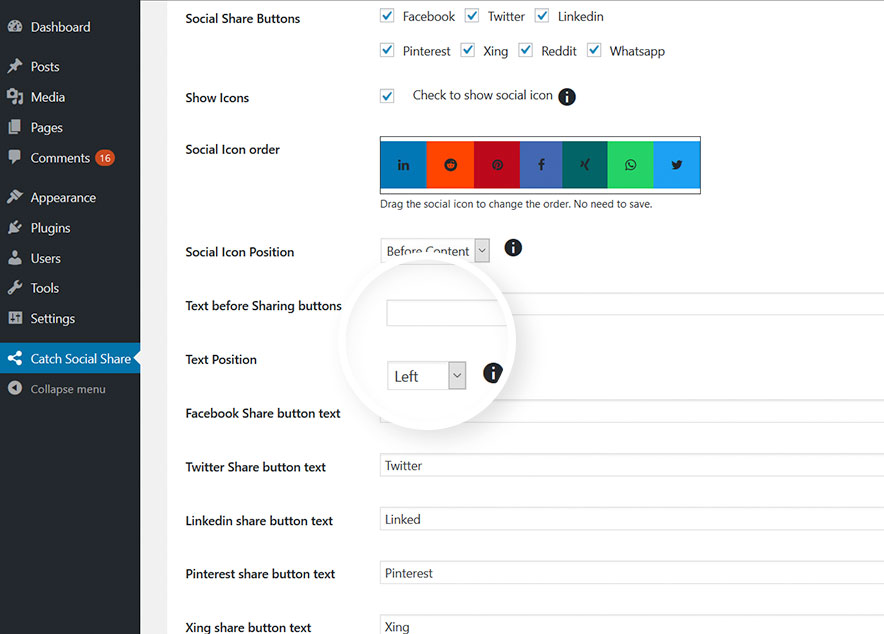 If you want to make your social sharing more informative, you can add texts as well. You can include the additional text either on right, left, top, or bottom of the social share buttons.
Editable Social Sharing Button Texts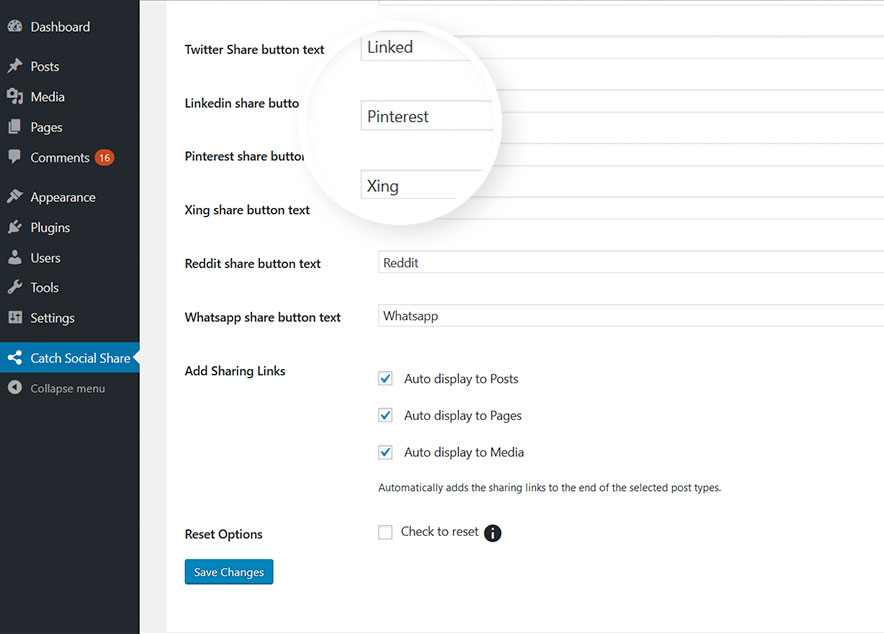 If you've chosen not to display the social icons, then Catch Social Share empowers you with the editable share button text. You can individually customize the names for each of your social media streams.
Sharing Links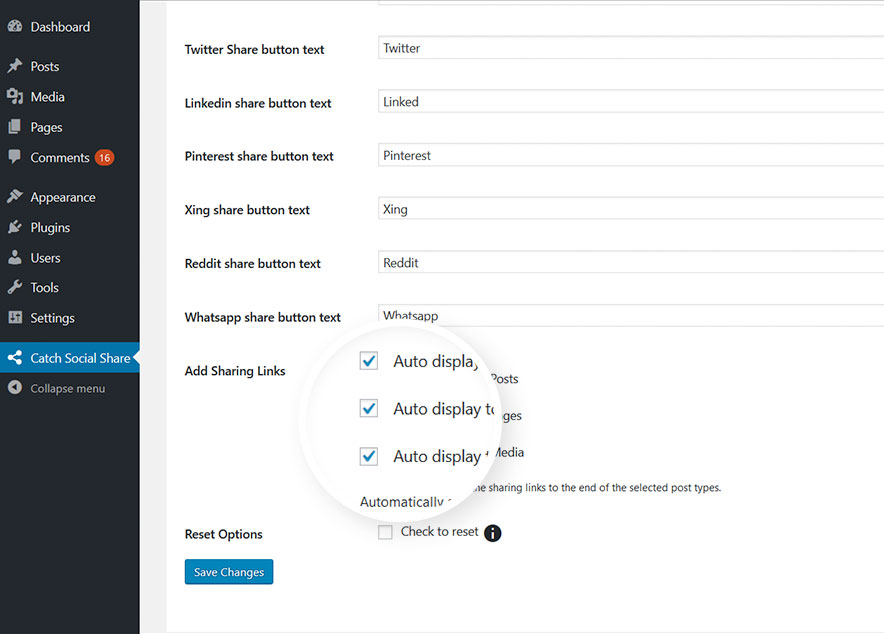 There are various sections on your website where you might want to display the social share buttons. Therefore, sharing links will let you choose the website sections where you can display the social sharing buttons. Enable the buttons on posts, pages, media, products, projects, testimonials, featured contents, services, and more.
Shortcodes
Catch Social Share, the new social sharing WordPress plugin supports shortcode as well. With the plugin activated, you will be provided with the shortcode option. Simply copy and paste the shortcode [catch-social-share] directly into any post or page and enjoy displaying the social share buttons.
Other Features
Lightweight
Catch Social Share is an expedient WordPress plugin to display social sharing buttons that is extremely lightweight. It means you will not have to worry about your website getting slower because of the plugin.
Responsive Design
Our new social sharing WordPress plugin comes with a responsive design, therefore, there is no need to strain about the plugin breaking your website.
Compatible with all WordPress Themes
Gutenberg Compatibility is one of the major concerns nowadays for every plugin developer. Our new Catch Social Share plugin has been crafted in a way that supports all the WordPress themes. The plugin functions smoothly on any WordPress theme.
Incredible Support
Catch Social Share comes with Incredible Support. Our plugin documentation answers most questions about using the plugin. If you're still having difficulties, you can post it in our Support Forum.
Overall, it is safe to say that Catch Social Share is the best social sharing WordPress plugin you can find for absolutely free of cost. When you integrate the social share button into your website, not only will it be easier for your audience to share articles, but even you can benefit from it by pushing your articles to success. Your articles will get the exposure it actually deserves. And Catch Social Share will do just that for you.
Download Catch Social Share plugin right away and provide your visitors with an easier gateway to share your content in various social media platforms.