The header area is one of the major parts of a website. And since it is the first thing that your visitors see while exploring your web page, you need to make sure it is eye-catching and attractive. To make your header shine the brightest, you can either add elegant images or expressive videos. Back when WordPress 4.7 was released, it extended the Custom Header feature to introduce support for video. Videos you add in your header play automatically and loop by default. However, the video sounds are not available and also header videos are not supported on mobile devices as well. Almost all the themes nowadays come with the Header Media option in the Customizer, where you can add either an image or a video as your header media. But do you want to display header video with sound or do you want to make your custom header mobile friendly? If yes, we've got you covered! Catch Plugins is introducing its latest product – Header Enhancement Pro, a WordPress plugin for enhancing custom header video.
Header Enhancement Pro– A WordPress Plugin for Custom Header Media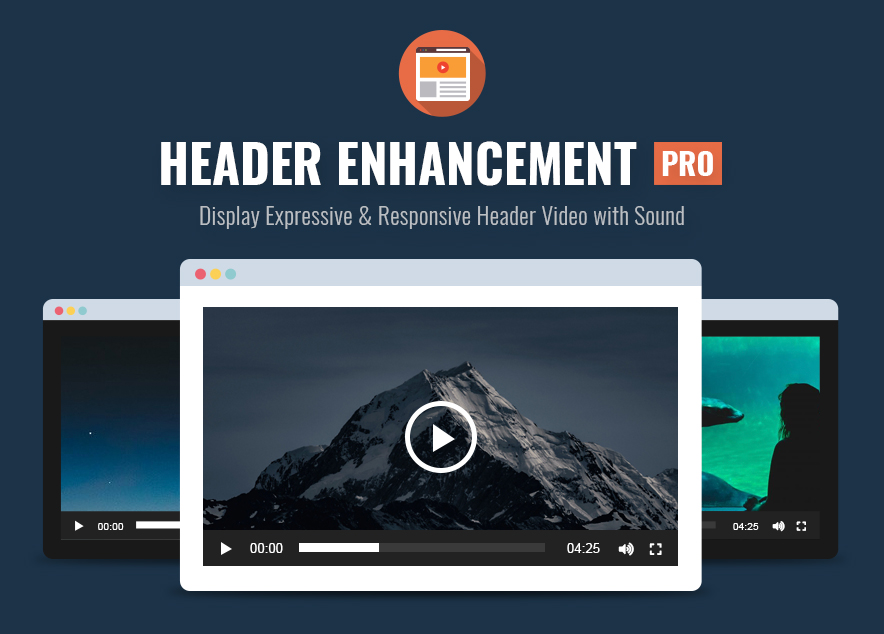 Header Enhancement Pro is a simple yet extremely handy premium WordPress plugin to enhance your custom header video. The plugin is for those who're trying to showcase the best in their header section with their communicative videos. With the plugin installed, you can easily add the video you want in your header and that too with sound effects. Also, not to forget, your header video will be displayed elegantly on mobile devices as well. A header video with sound and full support for small screen sizes, what more could you ask for? Set a header image, just for a backup if something goes wrong with your header video at times. The plugin allows you to autoplay your header video in the loop too. Flaunt the best in you through your expressive header video and make your website of any kind engaging.
The features you would get in Header Enhancement Pro are Autoplay, Sound Support, Mobile-Friendly, and Loop, just everything that your header video needs catch the visitors' eyes. Moreover, the plugin also extends the video upload size from 8 MB to 500 MB.
Let's have a quick look at the features available in Header Enhancement Pro, a custom header WordPress plugin. All of these features will be available to you in your Header Media Option under Theme Customizer.
Major Features in Header Enhancement Pro
Toggle Autoplay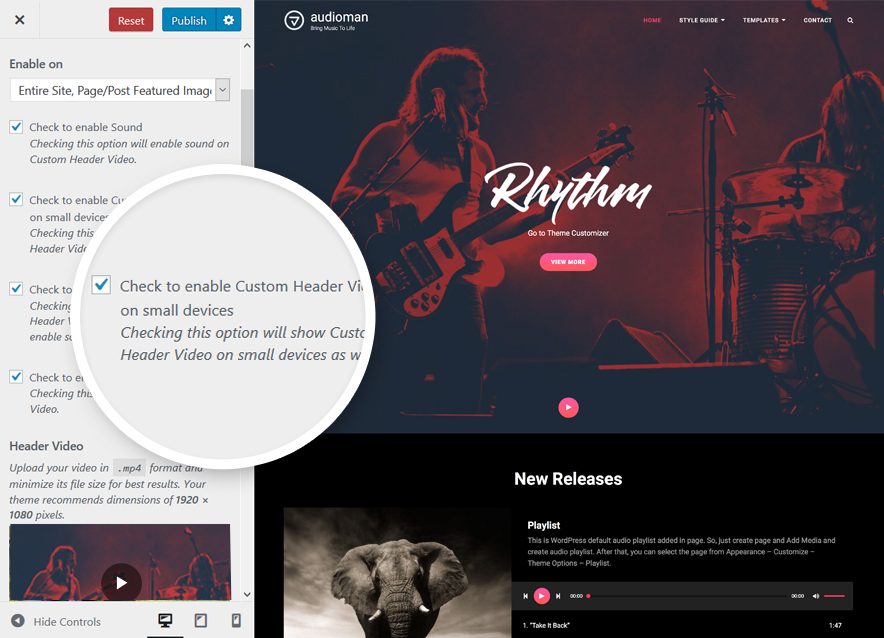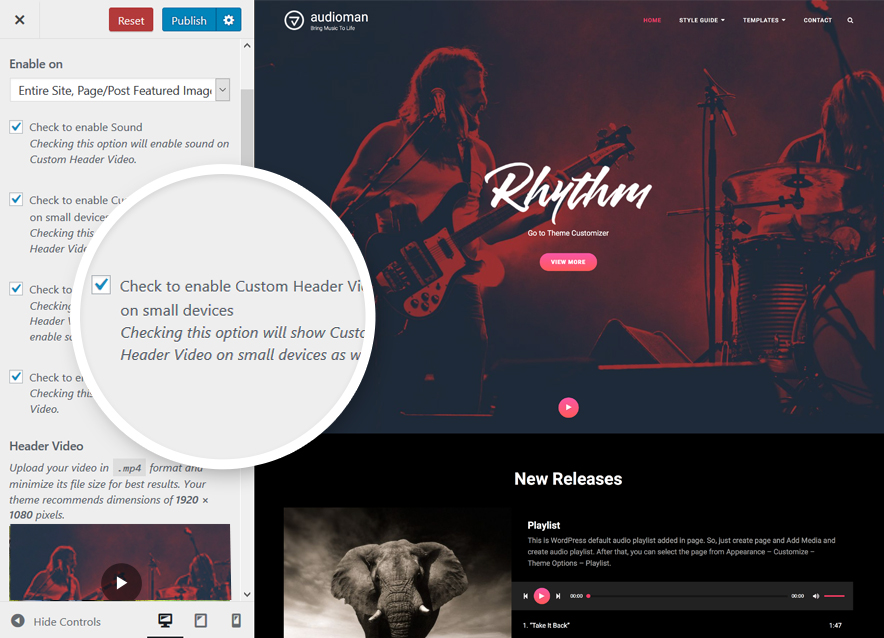 When displaying a video, you want it to play as soon as the visitor lands on your website. It would help grab your visitor's attention when they stumble upon you. Tick the checkbox if you want your header video to autoplay instantly when someone lands on your web page. However, please note that you can autoplay the header video only if the sound is turned off.
Toggle Sound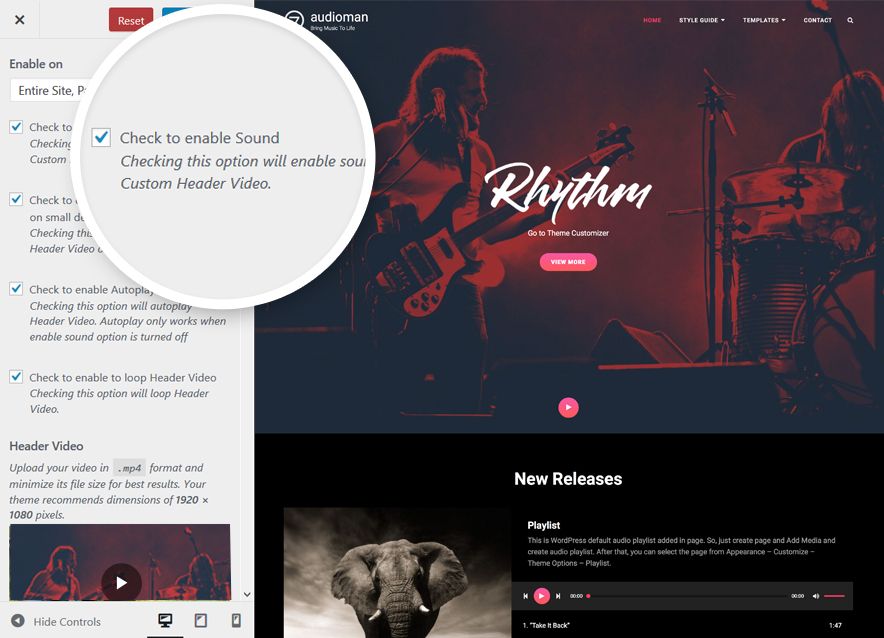 The sound effect is something that WordPress does not provide by default. And it is a very important factor when you're trying to engage your visitors with your header video. Therefore, we've added this option for your convenience. Your video sound will now play along, making your header video engaging and attractive.
Support for Small Devices (Mobile Friendly)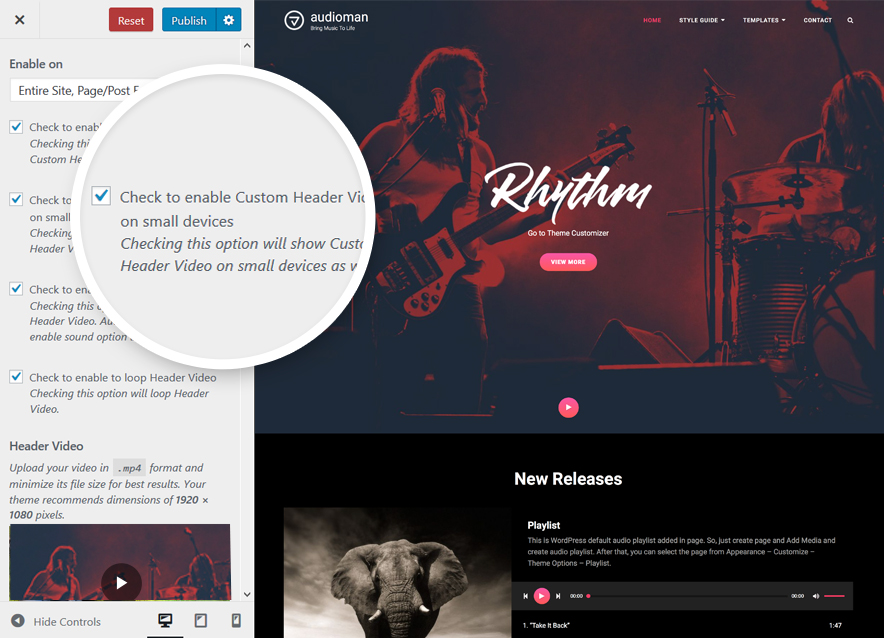 This is another feature that WordPress does not provide by default – Mobile Friendliness. The default video header feature is not supported in mobile devices. However, with Header Enhancement, you will be able to display your custom header video even on mobile devices. Since a huge number of audience are from mobile devices nowadays, this sure is a must-have feature.
Toggle Loop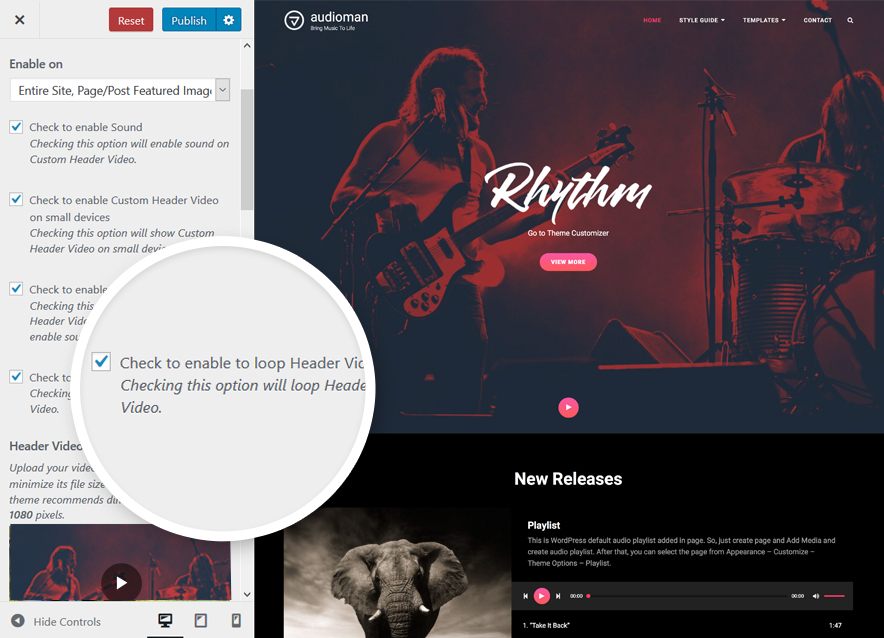 Expressive videos sure do deserve a second look or maybe third and more. Therefore, Header Enhancement Pro plugin is giving you the loop option. You can continuously play the header video again and again.
Max. Video Size up to 500 MB
WordPress allows you to add maximum video size of 8 MB on the header. However, with our new plugin installed, the maximum video upload size is 500 MB, isn't that cool? Now, display any video you like on the header without having to worry about its size.
Other Features in Header Enhancement Pro
Lightweight
Header Enhancement Pro is a simple WordPress plugin to display expressive header video and is extremely lightweight. It means you will not have to worry about your website getting slower because of the plugin.
Responsive Design
Our new WordPress plugin for custom header video comes with a responsive design, therefore, there is no need to strain about the plugin breaking your include.
Compatible with all WordPress Themes that Supports Header Media
Our new Header Enhancement Pro plugin has been crafted in a way that supports all the WordPress themes that includes the Header Media feature. Also, the plugin is completely compatible with Gutenberg as well.
Incredible Support
Header Enhancement Pro comes with Incredible Support. Our plugin documentation answers most questions about using the plugin.  If you're still having difficulties, you can post it in our Support Forum.
To sum up, Header Enhancement Pro is a premium plugin that helps you display a custom header video on your website. You can either upload your local video or paste the YouTube URL of the video. Either way, your header video will be displayed elegantly across all screen sizes, even on the mobile devices.
Everything that your header video needs—sound, mobile compatibility, loop, autoplay, video size—our new plugin has it all. So, what's the wait for? Buy Header Enhancement Pro right away!!!
And if you want a sneak peek, you can download the free version of this plugin as well. Click here to check out Header Enhancement (Free).