Working in WordPress is undoubtedly very much fun and full of creativity. As a WordPress user, 'tis very natural to want more and more control over your website. You might want a custom design, custom functionality, basically custom everything. Lucky for us that WordPress is very flexible and we can almost do everything our way. Likewise, if you want dramatically alter your website's design and functionality, just go for page templates. Today, we feel very happy to serve you with our latest free WordPress plugin for creating full width page templates – Page Builder Companion.
Page Builder Companion – A Free WordPress Plugin for Full Width Page Templates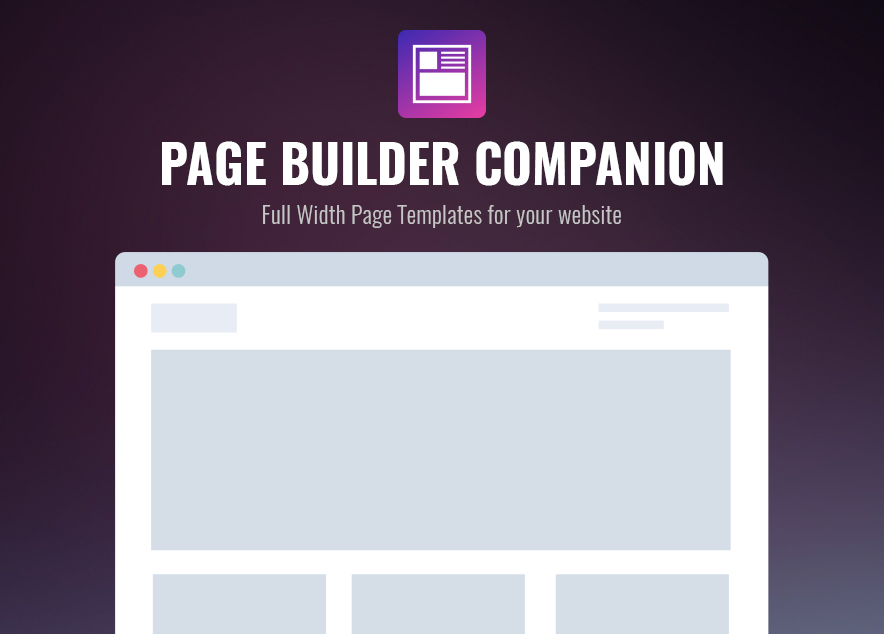 Page Builder Companion is a free WordPress plugin crafted for creating beautiful full width page templates on your website. It is a simple yet handy WordPress plugin that aims at designing full width layouts with various page builders, for instance, Elementor and Beaver Builder. It allows you to easily create and edit full width pages with different layouts for your website. There are three templates you can go for – Full Width, No Sidebar, and No Header and Footer. All of these three templates provide responsive layouts, which will run smoothly across all devices. The plugin lets you control and remove all the unnecessary elements—like default page title, boxed layout, extra margins, and more—which usually comes while using a Page Builder. It is extremely easy to use and no coding knowledge is required.
As mentioned earlier, Page Builder Companion comes with three different page templates. Have a detailed look:
Template Types in Page Builder Companion
PBC Full Width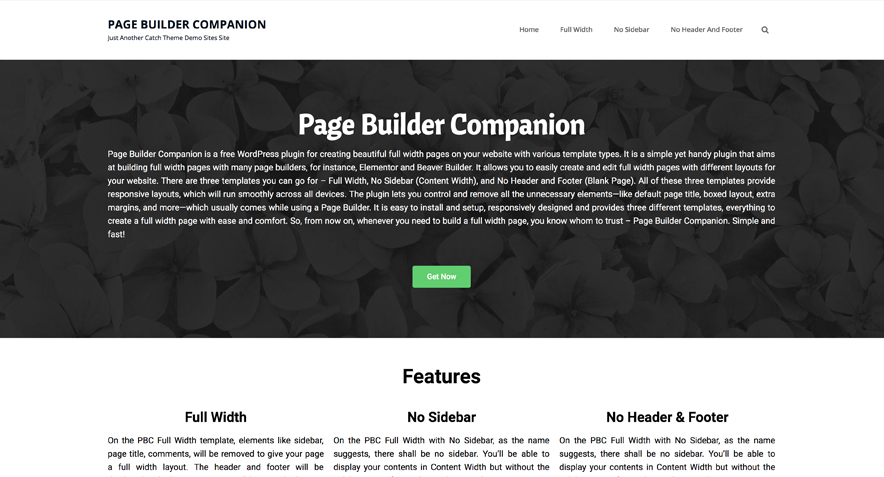 On the PBC Full Width template, elements like sidebar, page title, comments, will be removed to give your page a full width layout. The header and footer will be displayed, only the content area will be stretched out to Full Width. It is an ideal go-to solution if you're using a Page Builder like Elementor.
PBC No Sidebar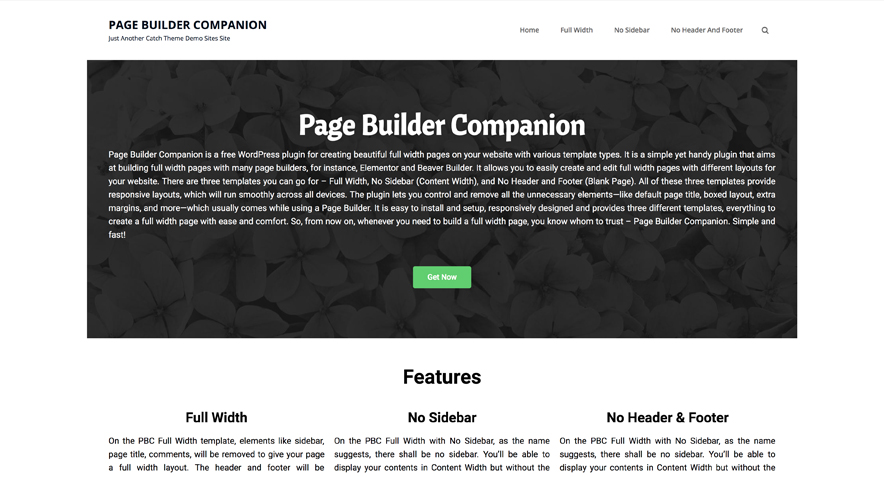 On the PBC Full Width with No Sidebar, as the name suggests, there shall be no sidebar. You'll be able to display your contents in Content Width but without the sidebar. Even if your theme does not have an option to hide the sidebar, this template will remove the sidebar and display the content with the header and footer of your website.
PBC No Header and Footer (Blank Page)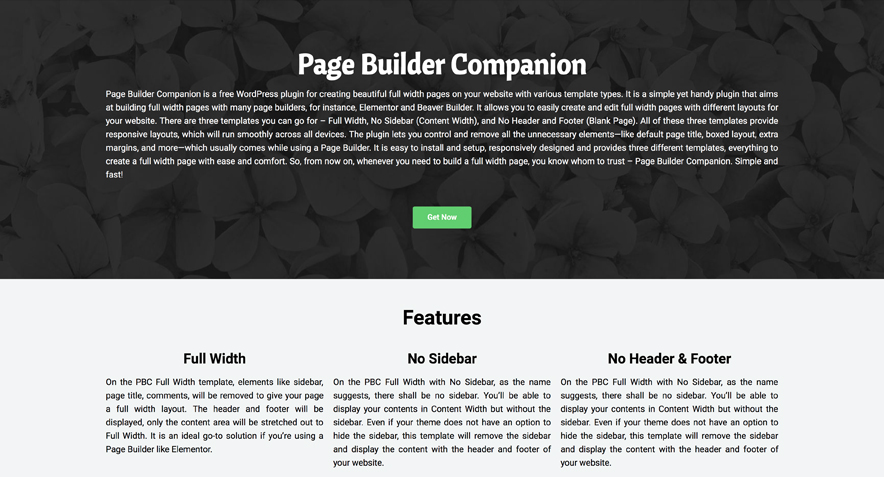 On the PBC No Header and Footer template type, you're given a blank template without the header, footer, or sidebar. You will be provided with a plain canvas where you can display information to your visitors without any distraction.
Best Features of Page Builder Companion
High- Quality Mobile Responsive Layouts
All three page templates provided in Page Builder Companion provide responsive layouts. It means no matter which template you go for, it will be displayed elegantly across all devices, including mobile devices with modern browsers.
Lightweight
Page Builder Companion is a simple WordPress plugin to display an elegant reading bar that is extremely lightweight. It means you will not have to worry about your website getting slower because of the plugin.
Responsive Design
Our new WordPress plugin for page templates plugin comes with a responsive design, therefore, there is no need to strain about the plugin breaking your website.
Compatible with all WordPress Themes
Gutenberg Compatibility is one of the major concerns nowadays for every plugin developer. Our new Page Builder Companion plugin has been crafted in a way that supports all the WordPress themes. The plugin functions smoothly on any WordPress theme.
Incredible Support
Page Builder Companion comes with Incredible Support. Our plugin documentation answers most questions about using the plugin.  If you're still having difficulties, you can post it in our Support Forum.
In conclusion, Page Builder Companion is a perfect pick for building beautiful pages with Full Width layouts. With this plugin, customize your pages and individualize any page of your website without affecting any other element on your website.
It is easy to install and setup, responsively designed and provides three different templates, everything to create a full width page with ease and comfort. So, from now on, whenever you need to build a full width page, you know whom to trust – Page Builder Companion. Simple and fast!