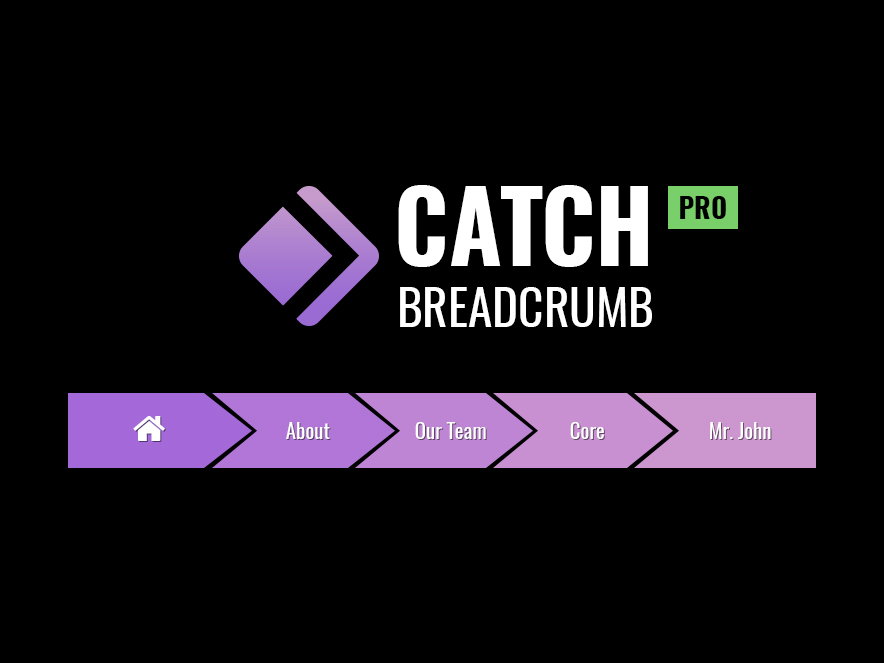 Breadcrumb navigation can be very useful on a website that has a large number of pages. Breadcrumb Navigation are mostly used by online shopping portals. Websites as such have a large amount of content organized in a hierarchical manner. If you own a website that has numerous pages and content, then you should design it in a way that if someone ends up on a product page, they'll be able to easily navigate to your homepage, your categories page, or to another type of product. And this is where breadcrumbs come in handy. They help a user navigate through a website. Knowing how important breadcrumbs really are for websites with numerous pages, we have crafted our very own WordPress plugin for breadcrumbs—Catch Breadcrumb Pro.
Catch Breadcrumb Pro is a simple yet feature-rich breadcrumb WordPress plugin that adds seamless breadcrumb navigation to your website. The plugin is extremely easy to use; even for the beginners. You can customize the navigation according to your requirement depending on the content of your website. The administrative panel in Catch Breadcrumb Pro is also very simple and easy to use.
The plugin provides customization options, with which you can tweak the settings according to your website. Catch Breadcrumb Pro comes with features such as shortcode options, color options, breadcrumb selector, separator, font size option, and more. With these features available in the plugin, you can display the breadcrumb trail wherever you wish. Additionally, with the new WordPress plugin for breadcrumbs, you have the option to whether or not display the breadcrumb on the homepage of your website. Checkmark the homepage option in the settings page if you want the breadcrumb to show in the homepage.
Check out the major features included in Catch Breadcrumb Pro, our new WordPress plugin for breadcrumb navigation.
Major Features in Catch Breadcrumb Pro
Shortcodes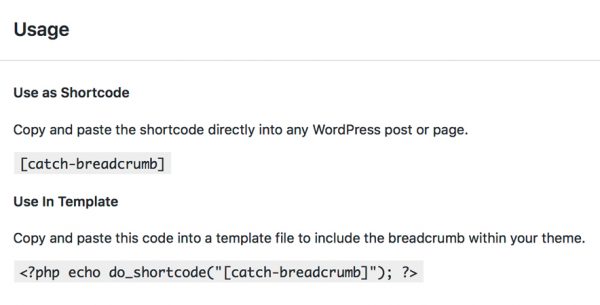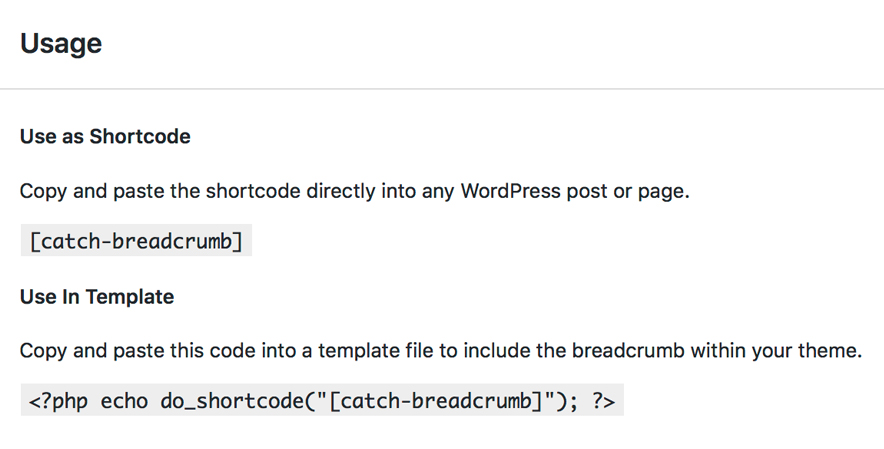 Catch Breadcrumb Pro, the new breadcrumb WordPress plugin supports shortcode. With the plugin activated, you will be provided with the shortcode option. Simply copy and paste the provided shortcode directly into any post or page and enjoy displaying your breadcrumb trail.
Breadcrumb Selector


You can display your breadcrumb trail wherever you want on your website. On the Breadcrumb Selector field, you need to enter the website position. The breadcrumb trails will be displayed gracefully right above the mentioned website section.
Custom Breadcrumb Separator


While displaying breadcrumbs, you need a separator in order to display the trail in an elegant and sophisticated manner. With our new WordPress plugin for breadcrumbs, Catch Breadcrumb Pro, you can add your own custom breadcrumb separator. Enter what you think would look elegant as a separator for your breadcrumb and display your breadcrumb trails elegantly.
Font Size


Catch Breadcrumb Pro allows you to choose the font size of your breadcrumb text. Depending on your website's look and functionality, choose the font size that goes well with your website.
Color Options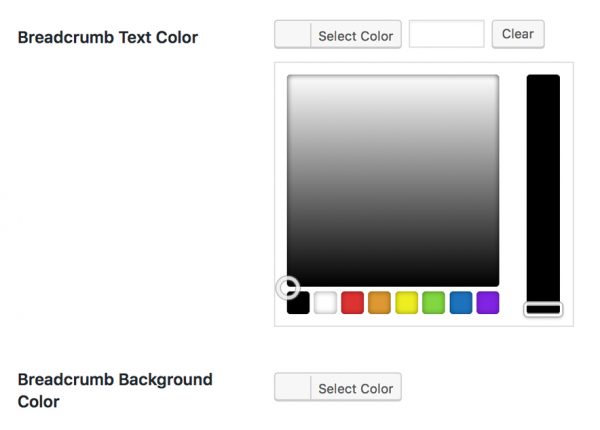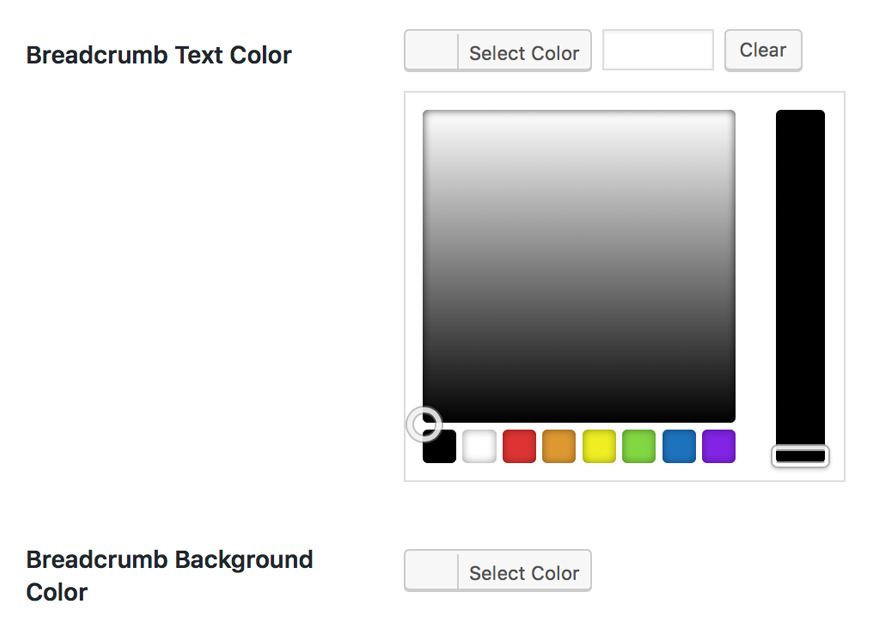 You need to pay a little extra attention towards the colors you choose for your breadcrumb to display them neatly. Our breadcrumb plugin for WordPress provides you with an unlimited color option for different sections of the breadcrumb. You can choose different colors for your breadcrumb text, background, and separator sections with the unlimited color palette. Make your breadcrumb trail visible, youthful and lively!
Other Features:
Lightweight
Catch Breadcrumb Pro, a simple breadcrumb plugin for WordPress is extremely lightweight. It means you will not have to worry about your website getting slower because of the plugin.
Responsive Design
Catch Breadcrumb Pro comes with a responsive design, which means the breadcrumb trails will look elegant on all devices.
Compatible with all WordPress Themes
Catch Breadcrumb Pro has been crafted in a way that supports all the themes on WordPress. The plugin functions smoothly on every WordPress theme.
Incredible Support
With our new breadcrumb plugin for WordPress, comes incredible support. For creating an elegant-looking breadcrumb trail, our plugin documentation answers most questions about using the plugin. If you're still difficulties, you can post your issues on our Support Forum.
So, all in all, Catch Breadcrumb Pro is the ultimate solution for you if you want to display eye-catching breadcrumb trails in WordPress. The plugin is very simple and easy to use. However, its simplicity does not stop it from displaying striking breadcrumbs on your website. Users can see the complete path of the current webpage according to your site's hierarchy.
Breadcrumbs will do wonders for the user experience on your website, so don't miss out on them. Add sophisticated breadcrumb trails with Catch Breadcrumb Pro and make your website elegant looking and user-friendly.
Click here to buy Catch BreadCrumb Pro plugin. Likewise, we also have a free version of this plugin with fewer customization options. You can check out Catch Breadcrumb Free here.