WordPress is ever evolving and there are always new trends going on the platform. One of those popular trends that WordPressers love is adding attractive sliders to their website. It has been so popular on the platform that there barely are websites that don't use them. You're likely to see a full-page slider header or a content blog that uses sliders to promote their latest content. This design trend makes your website beautiful and easily accessible as well. The sliders help you put your important/popular or favorite content on the limelight. It helps users to just pick the top content from your website. With the evolution of HTML and CSS, the level of possibility for sliders has increased a lot. The growth and the love for the sliders in WordPress is what inspired us to craft our very own WordPress slider plugin for our visitors to use. We're very happy to introduce our new WordPress Slider Plugin, Catch Slider Pro.
Catch Slider Pro is a premium WordPress slider plugin to add sliders to your website. The plugin lets you add interesting sliders to make your website more accessible and visually appealing. Catch Slider Pro is a lightweight slider plugin that comes with an array of amazing features—such as slider options, color options, mobile options, navigation button style, slider script, show/hide caption, caption position, font sizes, image sizes, and more—to make your sliders the center of attraction on your website. It lets you add three different types of Slider—Image, Post/Page, and Categories. With this Slider option, you do not have to worry about the type of slider you want to display. You're provided with an unlimited color palette that you can use for your title, content, background, button text, and more. Knowing the popularity of smartphones and people surfing on them, we've added numerous mobile options where you can customize your slider's caption, content and more. Also, Catch Slider Pro enables you to choose from different navigation button styles and you can also choose the Slider Script that suits your website the best. Catch Slider Pro gives you the option to show/hide the caption, caption position, font sizes and image sizes for your slider as well. With all of these incredible features implemented in the plugin, Catch Slider Pro sure is a one-stop solution to create and display amazing sliders on your website, no matter what kind it is.
Check out the features below that are integrated in Catch Slider Pro, our new WordPress slider plugin.
Features in Catch Slider Pro
Slider Options:

When you decide to put your slider in the limelight, you might want to display images, certain posts or pages, or you might also want to display content from certain categories. So, in order to do just that, Catch Slider Pro plugin provides you the Slider Options. In the Slider options, you can choose the type of slider you want to display—the images, posts, pages, or categories. You can then further customize the type of the slider you select.
Color Options: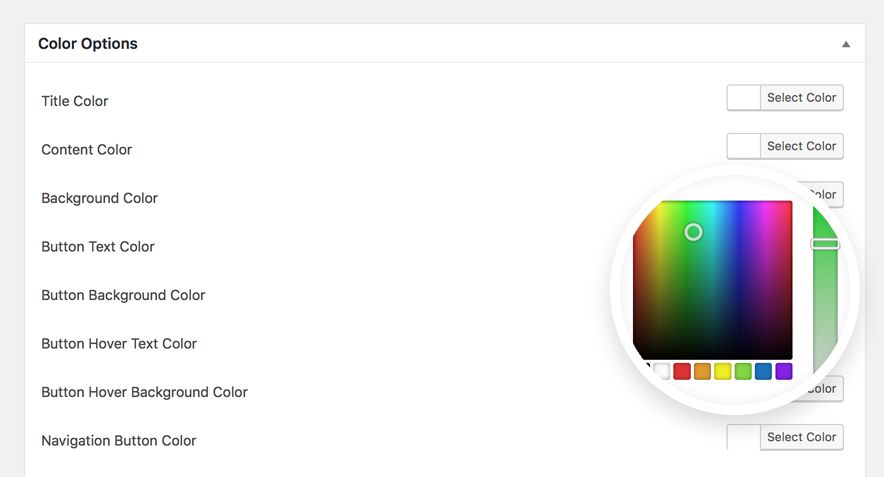 Our new WordPress plugin for sliders empowers you with the unlimited color palette for various areas of your slider. You can pick colors for your Title, Content, Background, Button Text, Button Background, Button Hover Text, Button Hover Background, Navigation Button, and Navigation Hover Button. Thus, with the unlimited color palette, make your slider youthful, or elegant and classy.
Mobile Options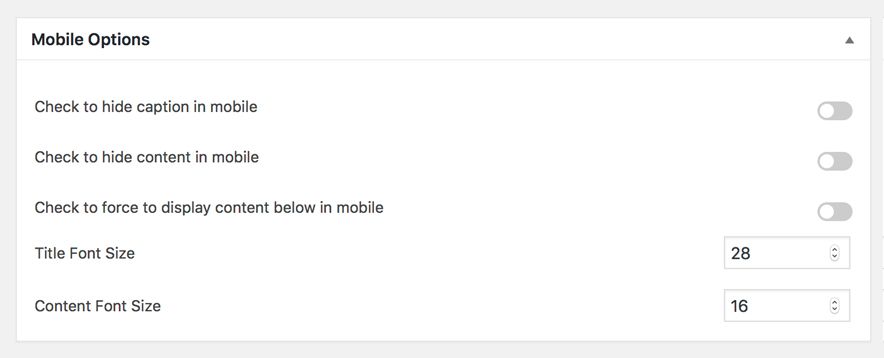 The growth of mobile users nowadays is on peak and in times like this, we need to focus on making our website mobile-friendly as well. Therefore, we've added numerous mobile options that would help you in showcasing your sliders in the way you want elegantly. People visiting your website through smartphones will be able to view your sliders as elegantly as they would in desktops. You have options to hide caption, content and display content below the sliders. Also, you can select your title and content font size for your sliders.
Navigation Button Style: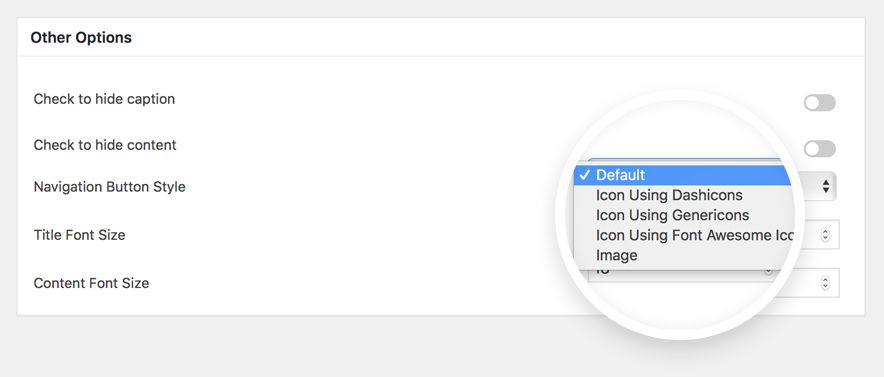 With Catch Slider Pro plugin, you don't really have to worry about displaying those old-school navigation button style. You can choose from five different navigation button styles, including the default style. You can select Icon Using Dashicons, Icon Using Genericons, Icon Using Font Awesome Icons or any Image as your Navigation Button Style.
Show/Hide Caption

When it comes to sliders, displaying captions can be a pretty handy feature to have. Adding captions to your content on the slider lets your visitors know what you're trying to showcase if they get confused. Catch Slider Pro empowers you with the ability of show/hide captions where you can add exciting captions on your slider and make them more informative for your visitors. You can just leave the caption field empty if you don't want to add one. Your website, your way!
Caption Position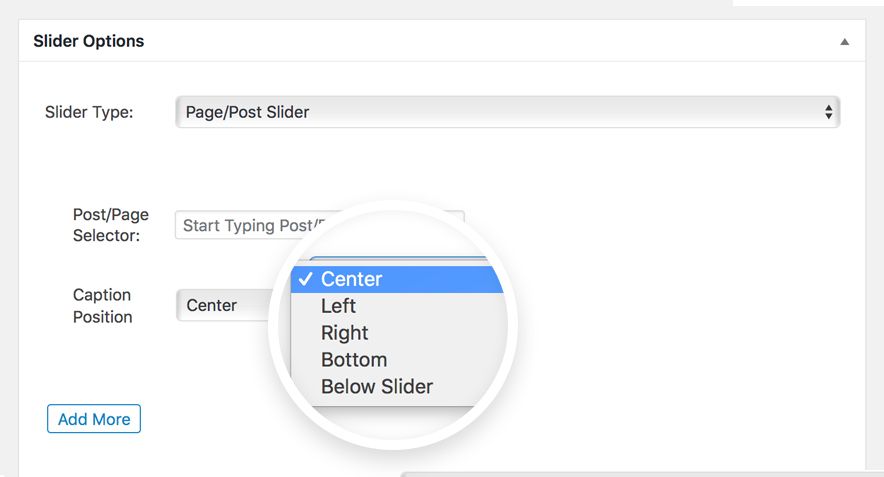 If you've decided to add captions to your content on your slider, and want them to be displayed a little differently, you can do that with the 'Caption Position' option available in Catch Slider Pro. You can choose to display the caption either on the center, left, right, bottom or just below the slider. The option is available to you only when you select the Image Slider or Post/Page slider.
Font Size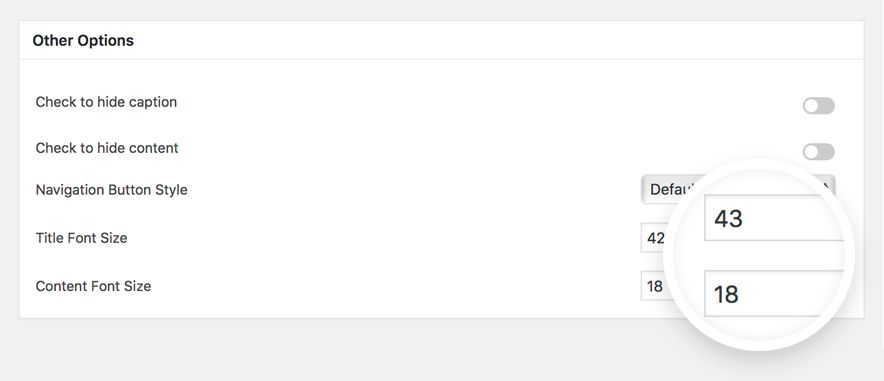 Depending on your website, its kind and your preference, you might want the fonts used on the slider to be unique, bold, and different. Our new WordPress slider plugin allows you to choose what size you want the fonts to be on your slider. You can choose the font size of your Title and Content. So, with the font size option available, you can choose the font size that suits best for your slider without any disruption.
Supports all Themes on WordPress
Catch Slider Pro has been crafted in a way that supports all the themes on WordPress. The plugin functions smoothly on every WordPress theme. Therefore, you will not have to worry about the plugin not being compatible with your WordPress theme.
Sliders are not only a trending element of a good web design but also it helps the reader to quickly navigate through the most important and interesting content. Catch Slider Pro empowers you with an array of crucial customization options to further enhance the user experience. The plugin is fully responsive and your sliders will look amazing on any device. Catch Slider Pro comes with great functionality and awesome support. It provides a fine combination of multiple free slider scripts, transitions, and animations.
So, all in all, if you're in search of a simple yet feature-rich WordPress slider plugin, then look no further than Catch Slider Pro. The plugin has everything to make your sliders amazingly engaging and elegant-looking.
Click here to buy Catch Slider Pro plugin.