This comes as a wave of immense happiness for us. We are so happy to share with you all that our To Top WordPress Plugin has crossed 50K Active Installs on WordPress.org. To Top is our first ever plugin to cross the milestone of 50K Active Installations.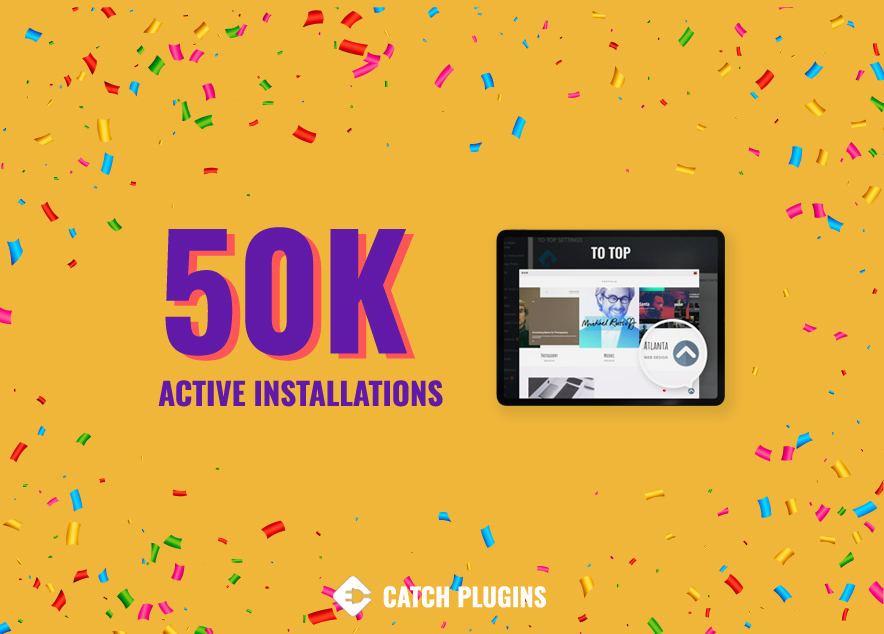 The happiness we are feeling today is all because of you guys. You loved our work and supported us through everything. We reached this milestone with your love and support. Catch Plugins team is very thankful for each and every one of you for your trust in our work. THANK YOU SO MUCH, EVERYONE!
To Top – Simple Scroll Up WordPress Plugin
To Top is a simple Scroll Up WordPress plugin for better navigation on your site. It is absolutely free of cost and available in the WordPress Plugin Repository. To Top plugin, by default adds a floating scroll up box at the bottom right side of your page. You can change its position as per your requirement. The plugin is extremely handy if you usually upload long content on your site. Your visitors will be able to smoothly slide right to the top of the page by simply clicking the To Top button no matter how much they had scrolled down. The plugin is very minimal, so, it does not affect any other element of your site. It is absolutely neat and adds extra charm to your website in just a few minutes. The plugin empowers you with powerful customization options, with which you can tweak almost everything in the plugin.
With a minimal design and flexible features, To Top is all you need to provide better navigation for your visitors. Be smart and download To Top today for better user experience!
Once again, THANK YOU SO MUCH for your never-ending love and support. To Top is growing and so is our motivation to craft more plugins for our valued customers. We look forward to serving you with our products alike in the future with the same—more, for sure—passion and dedication.
Cheers, Everyone!