We all are familiar with the fact that every WordPress website needs regular maintenance. If you really want to shine in the digital arena, you got to keep up with the trends and revamp your websites time-to-time. Nobody likes to see the same design with dull looks for years. You need to freshen up your website and to do that, you need to take your time and revamp it mindfully. And while your website is under construction, you need to make sure you don't lose any of your visitors or customers. You need to provide an informative maintenance mode for your visitors with mediums to contact you in case of any emergencies. So, in order to make the work easier for you, we are very happy to introduce our new WordPress Maintenance Mode Plugin – Catch Under Construction Pro.
Catch Under Construction Pro – Display an Informative Under Construction Page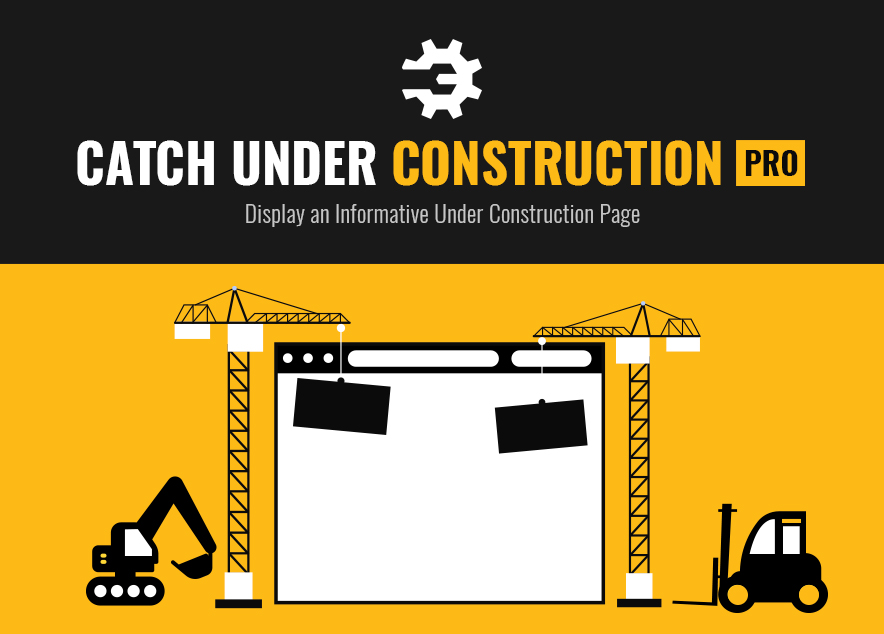 Catch Under Construction Pro is a premium WordPress maintenance mode plugin that helps you display informative under construction page in an elegant manner. The plugin is super easy to use and anyone, even the beginners, can use it without any coding knowledge. It will put your website into maintenance mode in just a click and with numerous customization options, you can make that maintenance mode attractive, engaging, and informative. Features like enable/disable buttons, background image, color options, font option with size, contact info, social links, counter, editable title and description, and more have been integrated into the plugin, making it a fully customizable WordPress maintenance mode plugin. With an array of customization option comes with an elegant and sophisticated design. It is completely responsive, and you under maintenance mode will look delicate across all modern browsers.
For your convenience, we have parted the customization option into various sections – General Settings, Design, Contact, Social Links, and Counter. On the General Settings section, there is a bunch of options you can enable and disable as per your need. Only after enabling these options, you will be able to further customize the plugin. Similarly, Design section includes various customization option like background image, logo image with position and size, title, footer text, description, color options, font options with sizes for different sections of the website, and more. You can add your contact information and links to your social profiles in Contact and Social Links sections, respectively. Furthermore, Catch Under Construction Pro allows you to add an attractive Counter, which would help your visitors know when the website will be ready.
With all the essential features needed, Catch Under Construction Pro is a perfect pick if you want to display a visually aesthetic and informative maintenance mode on your website.
Having that said, here are some of the major features you'll find in our new WordPress maintenance mode plugin.
Major Features in Catch Under Construction Pro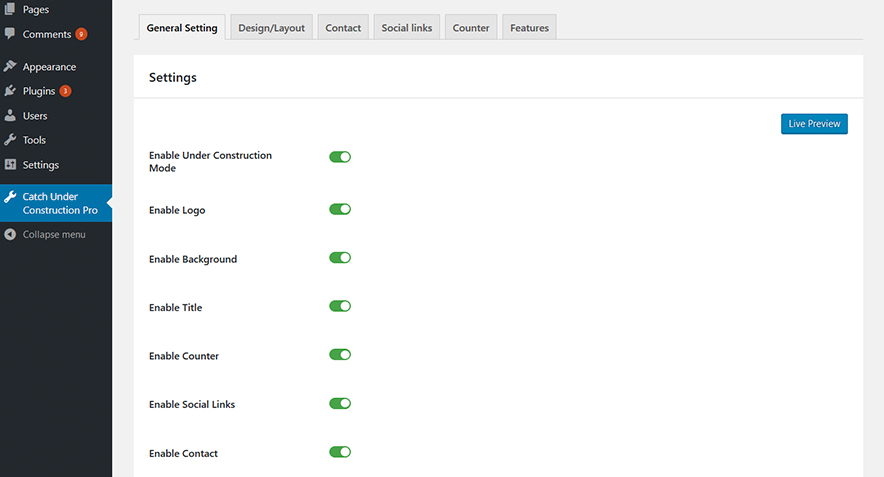 Enable/Disable Option
Under the General Settings tab is a bunch of options that you can enable or disable. In order for this plugin to work immediately, you can enable the 'Under Construction Mode'. For real-time customization, you need to enable various sections that you want to display on your maintenance mode. From this section, you can easily select which options you want to display and which ones do you want to hide.
Background Image
While displaying the maintenance mode on your website, you need to make sure it is attractive with a clean and visually aesthetic image. Add an eye-pleasing background image which would instantly give a hint about the maintenance mode to your visitors.
Color Options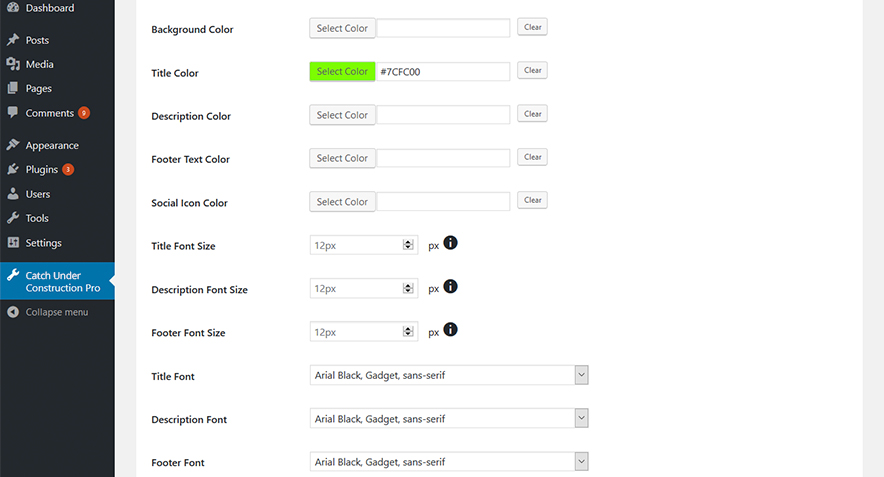 Playful and vibrant or simple and elegant, choose which colors you want for different sections on your maintenance mode. There is an unlimited color palette for sections like background, title, description, footer, social icon, and counter.
Font Options
With our new WordPress maintenance mode plugin, you can choose from a wide range of fonts available for various sections like title, description, and footer text. Not only the fonts, but you can also choose their sizes as well.
Contact Info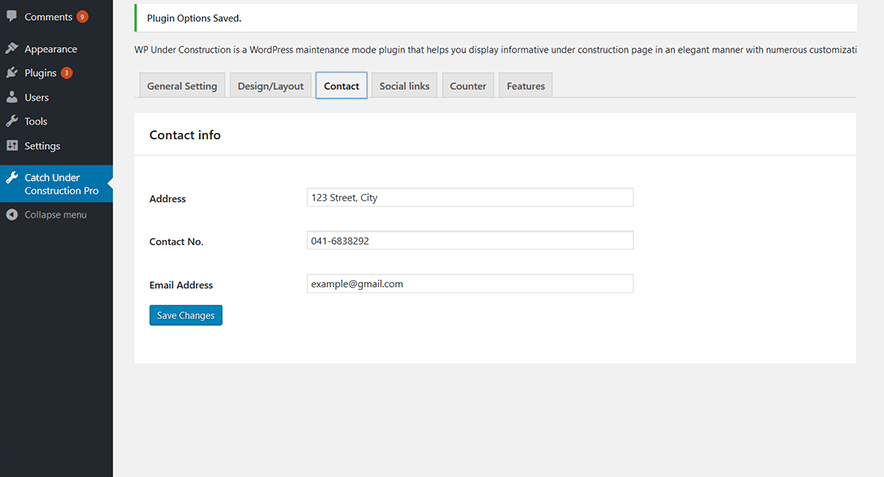 Provide your customers and visitors as an easier way to contact you in case of any emergencies. On the Contact Info section, you can add your email address, contact number, and your address.
Social Links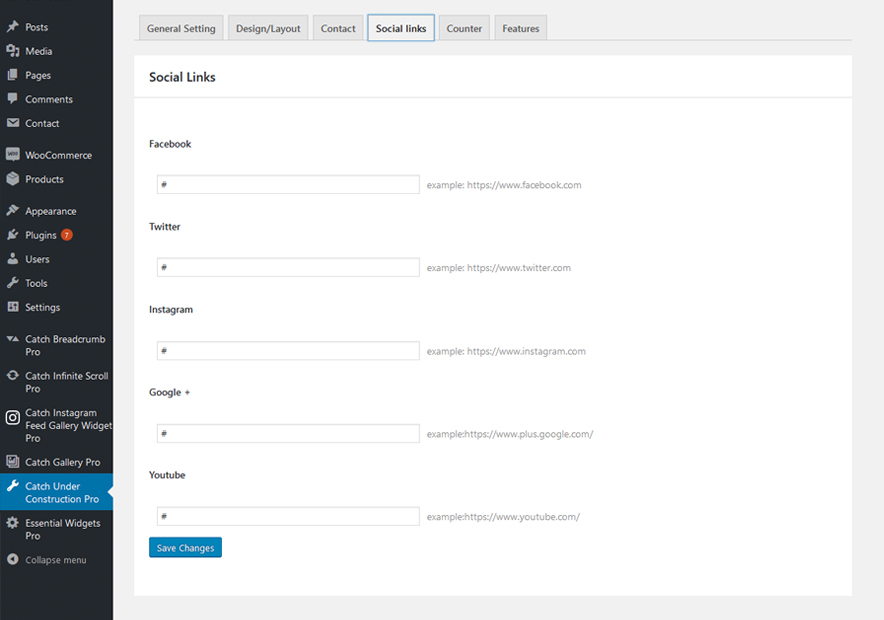 Nowadays who does not have a social profile? Let your visitors know where to find you until your website is under construction. Add your social media profiles like Facebook, Twitter, Instagram, Google, and YouTube on the Social Links tab and share them on the maintenance mode page.
Counter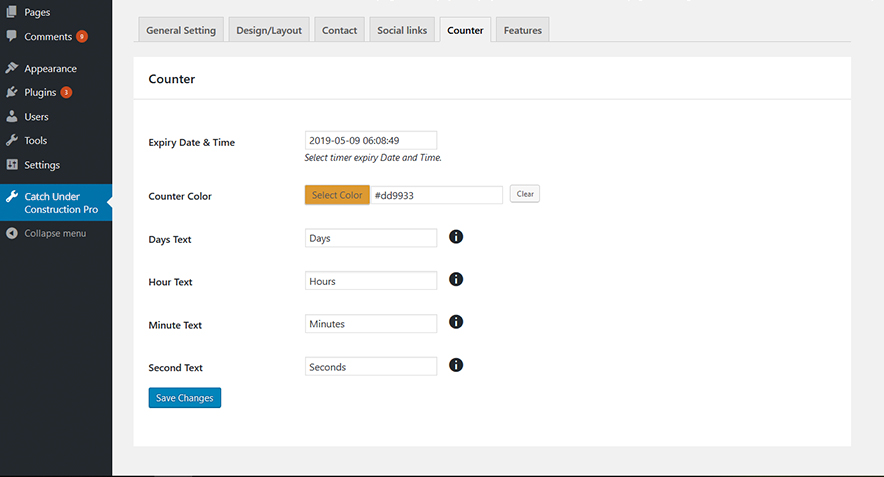 With Catch Under Construction, display an engaging countdown timer on the maintenance mode while you do your maintenance on the backend. It is a great way to let your visitors know about the time when your website will be ready. Add the expiry date, time and choose the color you want for your counter. Also, you are provided with editable text for Days, Hours, Minutes, and Seconds section.
Other Features
Lightweight
Catch Under Construction Pro is an expedient WordPress plugin to display an informative maintenance mode page that is extremely lightweight. It means you will not have to worry about your website getting slower because of the plugin.
Responsive Design
Our new WordPress maintenance mode plugin comes with a responsive design, therefore, there is no need to strain about the plugin breaking your website.
Compatible with all WordPress Themes
Gutenberg Compatibility is one of the major concerns nowadays for every plugin developer. Our new Catch Under Construction Pro plugin has been crafted in a way that supports all the WordPress themes. The plugin functions smoothly on any WordPress theme.
Incredible Support
Catch Under Construction Pro comes with Incredible Support. Our plugin documentation answers most questions about using the plugin.  If you're still having difficulties, you can post it in our Support Forum.
In conclusion, Catch Under Construction Pro is a must-have plugin for those wanting to stand out amongst the crowd even during the maintenance mode. It gives you everything you need to prepare your site for the maintenance mode.
Catch Under Construction Pro is quick to install, easy to setup, beautifully designed, and comes with an abundance of crucial features; basically, everything that you'd expect from a decent WordPress maintenance mode plugin. So, why wait? Buy Catch Under Construction Pro today!