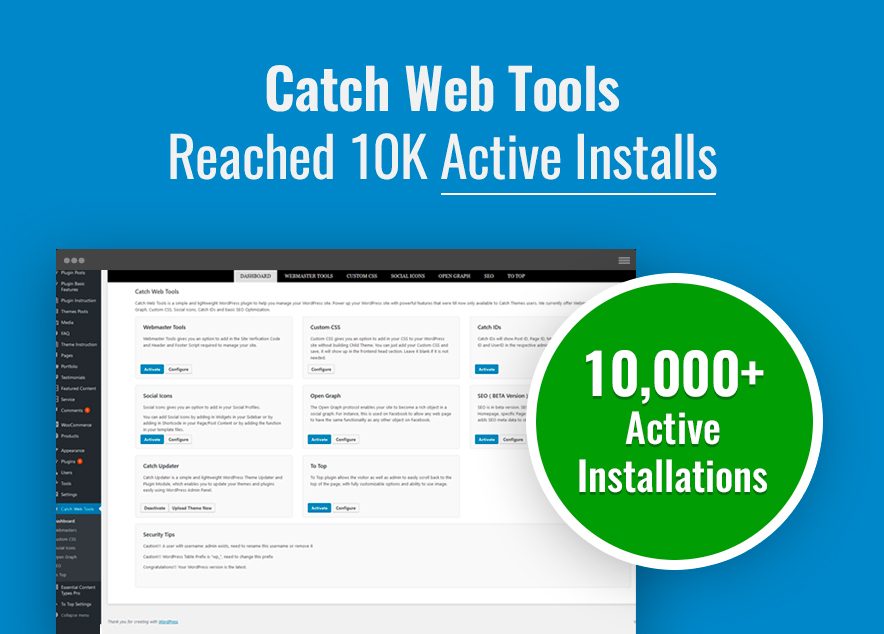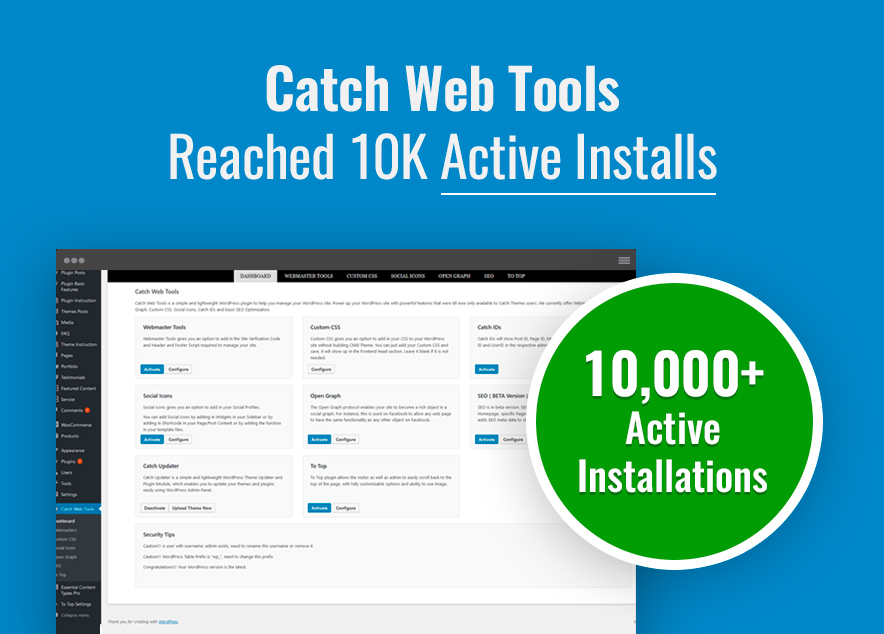 Here at Catch plugins, we have always been keen at providing our valued customers with the top-notch WordPress plugins crafted by our experienced developers. And we are very happy to get all the love and support from our customers and visitors. Today, we want to announce that one of our free WordPress plugins, Catch Web Tools have reached a new milestone. It has reached 10,000+ Active Installs on WordPress.org.
Catch Web Tools is a modular plugin that helps you boost up your WordPress website with simple and essential features. It is a simple plugin that offers features such as webmaster tool, open graph, custom CSS, social icons, security, updater and basic SEO optimization modules, and many more. It is extremely easy to use and you get awesome support to help you out with any confusion.
Major Features in Catch Web Tools
Webmaster Tools
Webmaster Tools provides you an option to add the Site Verification Code. Also, you'll be able to add the Header and Footer script in order to manage your website.
Social Icons
Your social media presence plays a crucial role in making your website a hit. Catch Web Tools plugin allows you to add your social media profiles on your website. You can display your social icons via Widgets, shortcode in your Page/Post Content or by adding the function to your template files.
Open Graph
The Open Graph tool helps your site to become a rich object in a social graph. For instance, it is used on Facebook to allow any web page to have the same functionality as any other object on Facebook.
Catch Updater
Catch Updater is a simple and lightweight WordPress Theme Updater and Plugin Module. It enables you to update your themes and plugins easily through your WordPress admin panel.
Catch IDs
Catch IDs helps you display Post ID, Page ID, Media ID, Links ID, Category ID, Tag ID and UserID in the respective admin section tables.
To Top
To Top feature allows your visitors (as well as admin) to easily scroll back to the top of the page. The feature comes with fully-customizable options and the ability to use images.
Custom CSS
With the Custom CSS feature included in Catch Web Tools, you can add custom code to overwrite any plugin or theme's default styles. You can design your website the way you prefer with the custom CSS option available to you.
All in all, our plugin, Catch Web Tools is a one-stop solution if you're looking forward to power up your website in WordPress.
You can know more about our Catch Web Tools plugin here. To download the plugin without affecting your wallet, click here.
Lastly, we want to thank all our supporters and valued customers for showering us with so much love. We're very happy to know that you guys loved our work and our effort that we've incorporated in Catch Web Tools.
Since our CWT plugin has crossed 10K active installs on WordPress.org, we are now more energized and motivated to craft more handy plugins for you. We look forward to presenting you more of our high-quality products in the near future.
It is our fourth free plugin to cross this milestone of 10K Active Installs. To Top, Catch IDs and Essential Content Types are our other three free plugins that have already crossed 10K active installs on WordPress.org.
Once again, a huge "Thank You" to everyone! Keep loving and supporting us.  Cheers!