We're ready for the new major update, WordPress 5.7! As scheduled, WordPress 5.7 was released on 9th March 2021. And we're very excited to announce that Catch Plugins is now WordPress 5.7 ready.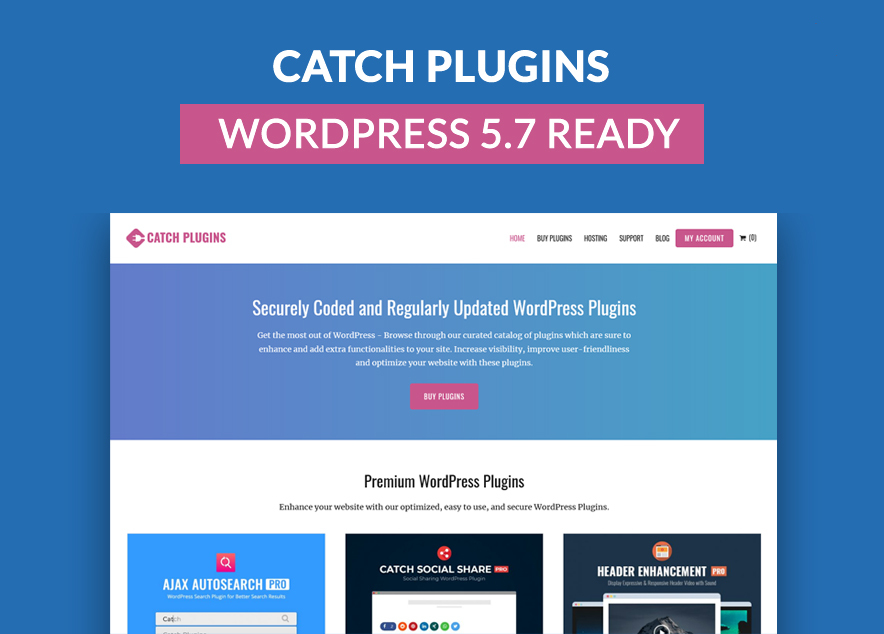 WordPress is ever-evolving and there are always discoveries now and then. Therefore, catching up with the latest updates has become a must if you're in the WordPress industry. And here at Catch Plugins, we have a reputation for staying updated with all the latest updates and happenings. So, continuing that, we're happy to share that Catch Plugins is now WordPress 5.7 Ready. All of our plugins are tested, updated, and polished!
WordPress 5.7 is here with so many exciting features and behind the scenes, we have been working on all our premium and free plugins for quite some time now. We've been testing all our plugins for compatibility with WordPress 5.7 with the help of 5.7 RCs. And now, you all can enjoy the new, updated version of WordPress without any plugin incompatibility issues from us. We have made sure that all our plugins (Free and Pro) are completely compatible with the updated version, WordPress 5.7.
After upgrading to WordPress 5.7, you will not face any issues while using our WordPress plugins. However, you need to make sure you run your plugins on the latest update we've provided.
We feel very happy to serve you with our updated and 5.7-ready WordPress plugins.
Nevertheless, if you still find any issues, please report them to our Support Forum. We're always here to help.
Let's Start Updating!
Since the new version includes several major changes, it is definite that thousands of themes and plugins are not compatible with the new editor and might bring issues to your website. So, we recommend that you do not run the update directly on your production site. Instead, consider setting up a test site to play around with the newest version first. And if everything seems fine for you then you can go to your main site.