Tech world is ever-evolving; and nowadays, there are always new trends taking place. If you're up-to-date with the latest trends, you might be aware of a popular design trend—Sticky Menu. It is a tool used by thousands of websites, including some of the popular ones like Facebook and Google. Having a sticky menu on your website can be handy in many ways, especially for your visitors to navigate through your website. If your site has a lot of content, uses the infinite scroll, or has incredibly long pages, using a sticky menu can be a great tool to go for. So, knowing the benefits and importance of sticky menu on a website, we are more than happy to introduce our new WordPress plugin for sticky menu, Catch Sticky Menu.
Catch Sticky Menu – WordPress Plugin for Sticky Menu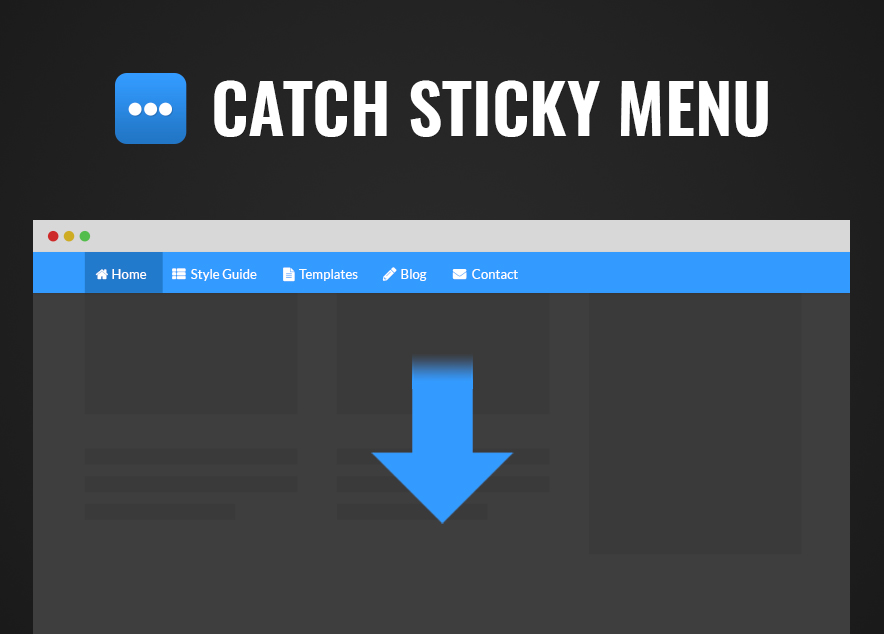 Catch Sticky Menu is a lightweight, simple yet feature-rich WordPress plugin for sticky menu that allows you to lock menus on your website. The plugin is extremely easy to use; even for the beginners. You can customize the sticky menu according to your requirement depending on the content of your website. The administrative panel in Catch Sticky Menu is also very simple and easy to use. Catch Sticky Menu sure has been designed to lock down the menu, however, you can make any element on your website sticky. You can make your website elements—such as Call to Action, your logo and more—sticky with Catch Sticky Menu.
Sticky headers can make a site quicker to navigate and our new WordPress plugin for sticky menu does just that for your visitors. The plugin provides customization options, with which you can tweak then settings according to your website. Catch Sticky Menu comes with features such as menu selector, sticky background color, sticky z index, sticky opacity, and more. With these features available in the plugin, you are empowered with a fully customizable sticky menu option. Additionally, you also have the option to whether or not display the sticky menu on the homepage only. Checkmark the homepage option in the settings page if you want the sticky menu to show in the homepage only.
Below are the major features included in Catch Sticky Menu, our new WordPress plugin for sticky menu.
Major Features in Catch Sticky Menu
Menu Selector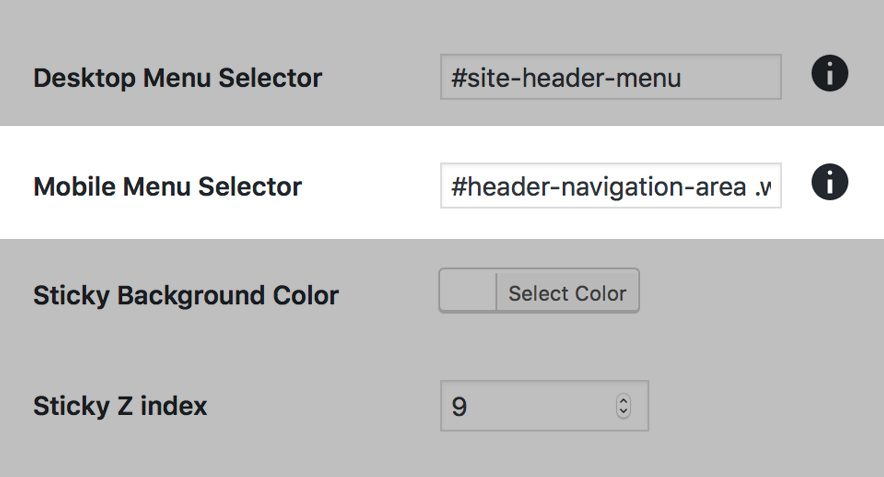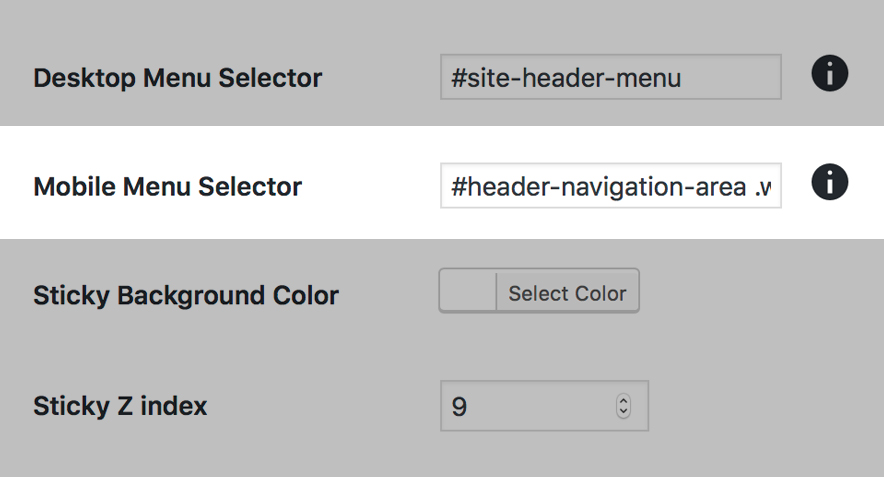 Catch Sticky Menu empowers you with Menu Selector (for desktop and mobile). A basic knowledge of HTMl/CSS is required as you need to pick the right selector for the element you want to make sticky. You can pick which element of your website to make sticky from the Inspect Element option. You can select the sticky element for desktop and mobile menu selector, separately.
Sticky Background Color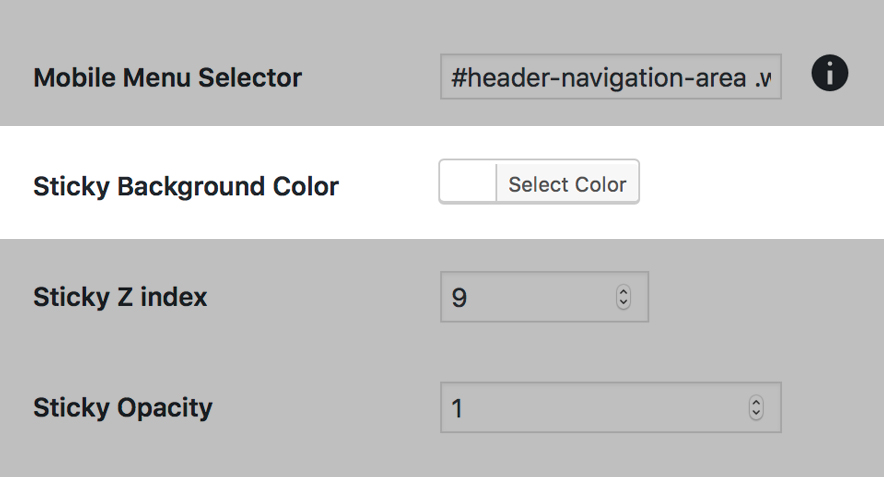 Background colors play an important role when you're trying to highlight something. Likewise, we've added the option to select the background color for your sticky menu. Select the background color from the unlimited color palette that best suits your website and its design to make your sticky menu stand out!
Sticky Z Index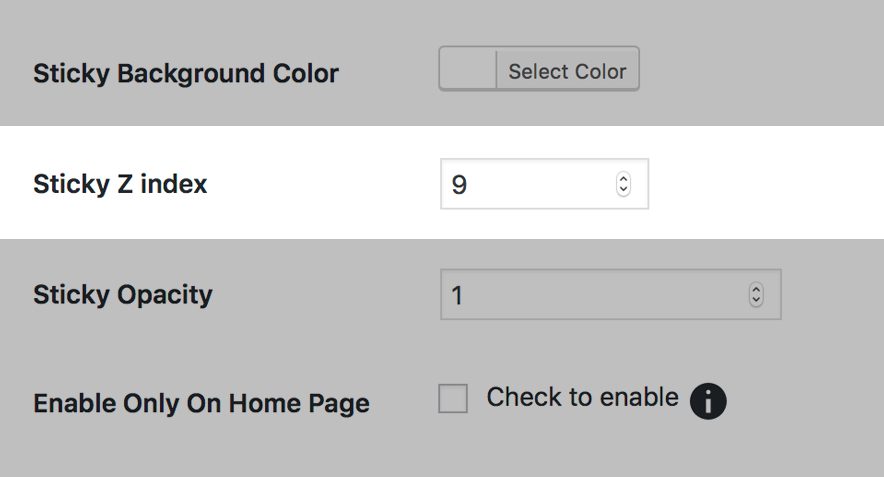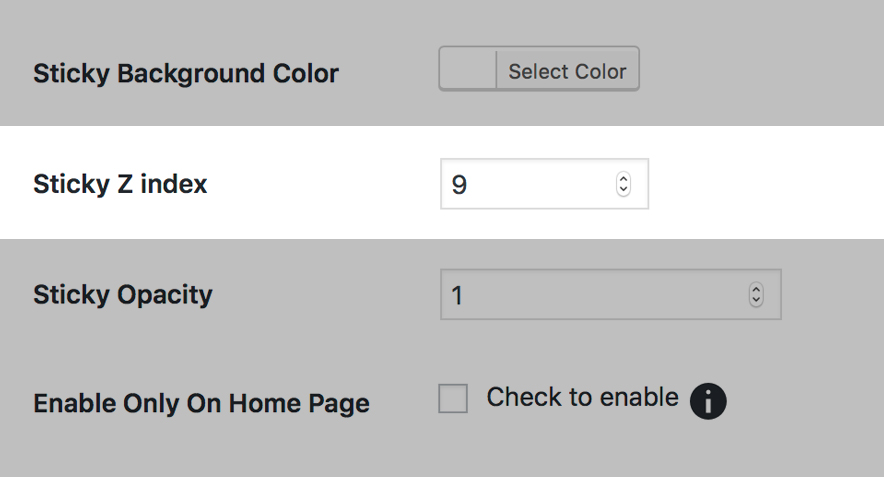 Catch Sticky Menu supports Z Index option. You can add a sticky Z index easily if there are other elements on the page that hide or peek through your sticky element.
Sticky Opacity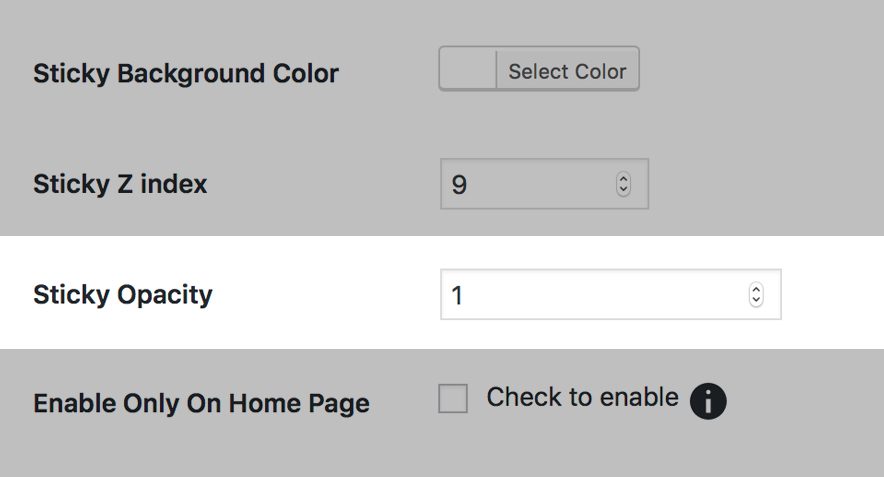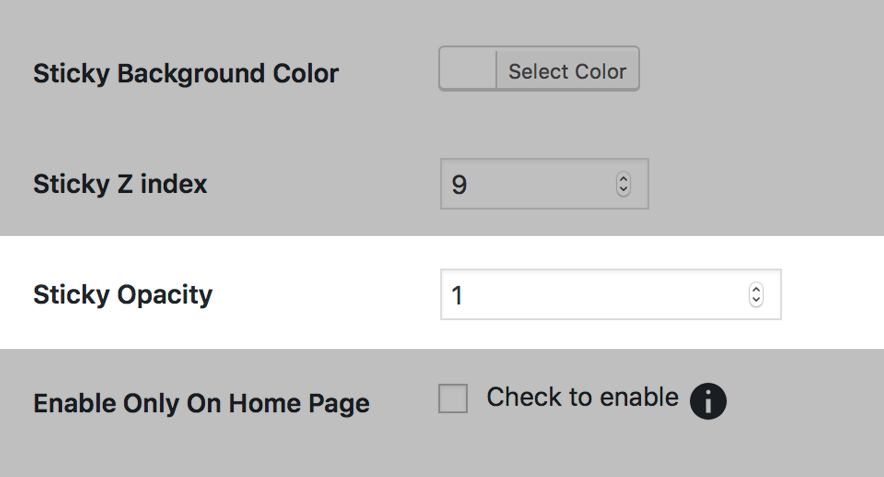 With the Sticky Opacity option available in Catch Sticky Menu, you can select the opacity level of your sticky menu. The more you decrease the opacity level, the more faded your sticky menu will look. You can select the opacity as per your preference.
Enable on Homepage only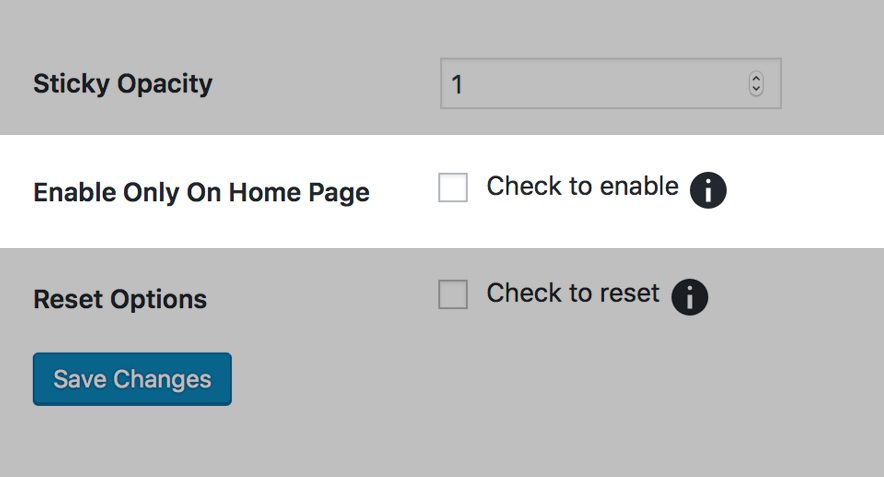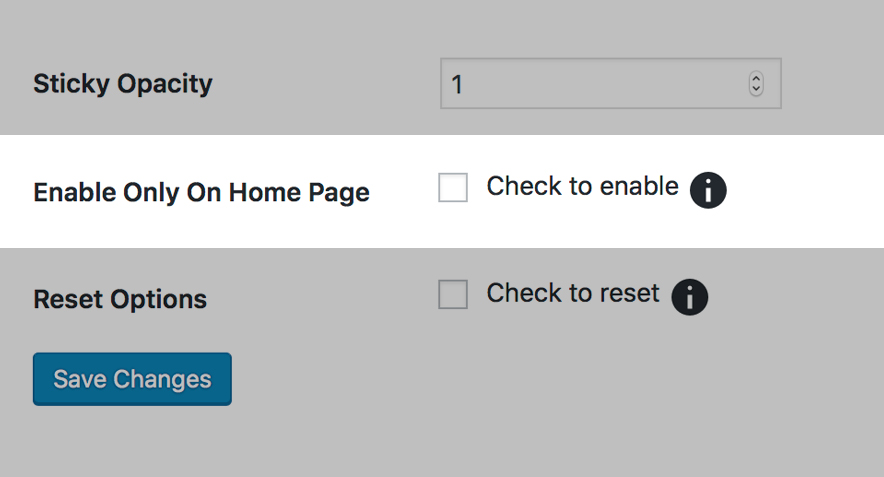 You can stick the menu either on the Homepage of your website only or on the entire website. Your sticky menu is enabled on the entire website by default. And if you want the sticky menu to be displayed only on the Homepage, checkmark the tiny box right next to the option.
Other Features
Lightweight
Catch Sticky Menu, a simple sticky menu plugin for WordPress is extremely lightweight. It means you will not have to worry about your website getting slower because of the plugin.
Responsive Design
Catch Sticky Menu, our new WordPress plugin for sticky menu comes with a responsive design, which means your sticky menu will look elegant on all devices.
Compatible with all WordPress Themes
Catch Sticky menu has been crafted in a way that supports all the themes on WordPress. The plugin functions smoothly on any WordPress theme.
Incredible Support
With our new sticky menu plugin for WordPress, comes incredible support. For creating an elegant-looking sticky menu, our plugin documentation answers most questions about using the plugin. If you're still difficulties, you can post your issues on our Support Forum.
To sum it all up, Catch Sticky Menu is a simple WordPress plugin to lock your website menu (or any other element) and make them "sticky". The plugin is extremely easy to use and provides everything you expect from a decent sticky menu WordPress plugin. Sticky Menu does wonders for the user experience on your website, so don't miss out on them.
Download Catch Sticky Menu plugin today and provide your visitors a better browsing experience without affecting your wallet.