Are you looking for an easy solution to hide Archive Page Labels such as "Category:", "Tags:", "Author:", or any other in WordPress? We present you with a quick solution – Hide Archive Label, our new free plugin that quickly hides archive page titles in WordPress.
WordPress, by default, adds a prefix in front of different archive pages to give context and be more informative. It sure is obliging and helps in distinguishing various archives for your users. However, a lot of users don't like it and find it hideous for their website. It kind of makes your archive page titles a little longer, which definitely is not attractive. You sure can hide it manually, but it consumes time and you need coding knowledge for that. So, let us present you one quick solution to hide Archive Titles in WordPress. Our new FREE WordPress Plugin to hide different Archive page labels – Hide Archive Label.
Hide Archive Label – Hide Archive Title Prefix on your Site Swiftly
Hide Archive Label is a free WordPress plugin to effortlessly hide archive page title prefixes on your site. It provides you with options to hide the archive page title and save your time impeccably with its features. You can either partially hide the archive title or you can completely remove it. With Hide Archive Label plugin, it is extremely easy to show, hide, or remove different archive page labels, making your archive title shorter and attractive. The plugin is extremely easy to use. There are a bunch of checkboxes that show different archive titles. You need to check-mark the options, which you want to hide or remove. Simple and quick!
You can easily hide Archive Labels like Category, Tag, Author, Taxonomy, Archives, Year, Month, and Day. Simply checkmark the labels and enjoy hiding these labels.
Hiding the unnecessary archive labels make the titles more appealing for your users. A simple, neat and clean page is what your visitors will see. Having said that, let's now have a distinct look at the features in Hide Archive Label.
Major Features in Hide Archive Label Plugin
Hide Archive Label Accessibly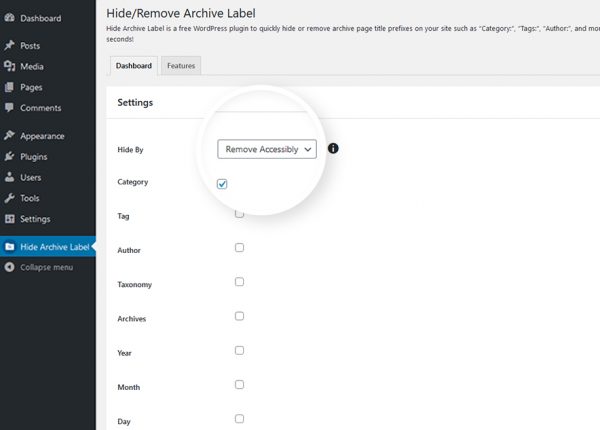 Dashboard > Hide Archive Label > Hide By > Remove Accessibly
You can hide the label for any archive page accessibly. It means your archive texts will not be completely removed, but instead, it will be hidden from visibility. Accessible hiding causes wrapping the archive title label in a screen-reader-text CSS class. And wrapping the text in such a CSS class element means it will be hidden but still will be accessible.
Remove Archive Label Completely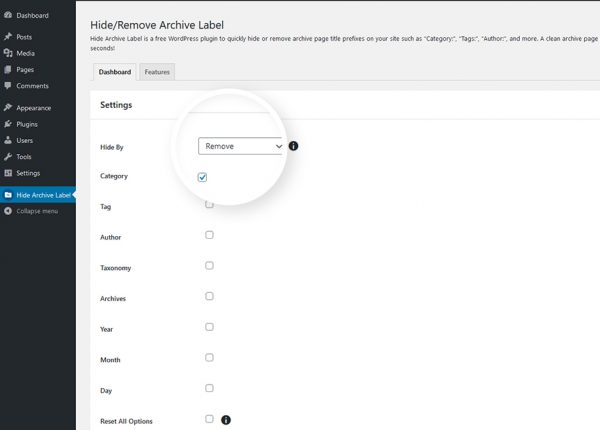 Dashboard > Hide Archive Label > Hide By > Remove
Instead of partially hiding it, you can completely remove the archive label from your website if you choose not to display them even on the screen reader.
Hide Labels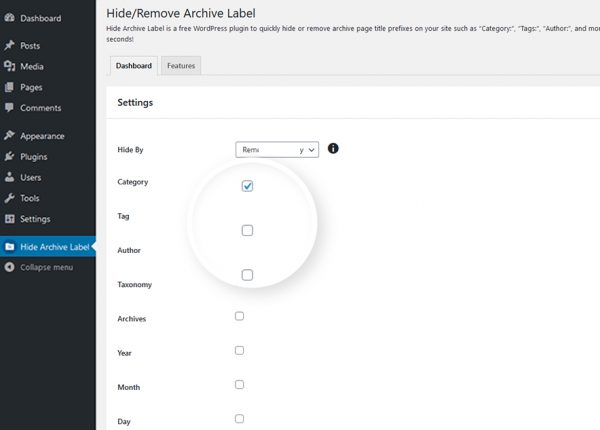 Dashboard > Hide Archive Label
You can choose which ones to hide from a bunch of archive page title labels. Here is the list of available labels that you can hide or remove:
Category Archive – Removes "Category:" label
Tag Archive – Removes "Tag:" label
Author – Removes "Author:" label
Taxonomy – Removes "Taxonomy Name:" label
Archives – Removes "Archive:" label
Year – Removes "Year:" label
Month – Removes "Month:" label
Day – Removes "Day:" label
Other Features
Super Responsive
Our new WordPress plugin for hiding archive labels comes with a responsive design, therefore, there is no need to strain about the plugin breaking your website.
Lightweight
Hide Archive Label is an expedient WordPress plugin to hide or remove archive titles that is extremely lightweight. It means you will not have to worry about your website getting slower because of the plugin.
Compatible with all WordPress Themes
Our new Hide Archive Label plugin has been crafted in a way that supports all the WordPress themes. The plugin functions smoothly on any WordPress theme.
Gutenberg Ready
Gutenberg Compatibility is one of the major concerns nowadays for every plugin developer. The plugin is fully compatible with the block editor. So, if you're someone who's using the new block editor, Hide Archive Label shall work just fine for you without any complications.
Incredible Support
Hide Archive Label comes with Incredible Support. Our plugin documentation answers most questions about using the plugin. If you're still having difficulties, you can post it in our Support Forum.
To paraphrase, Hide Archive Label is the best free WordPress plugin you can find in order to quickly hide archive titles in WordPress. To level-up your experience, the plugin is simple, straight-forward, and extremely fast. If you want to make your site healthier, it is exceptionally crucial that you focus on small changes like this. Your visitors will love a neat and clean stance without any unnecessary content.
So, open up your arms and welcome our new WordPress plugin to your site without troubling your wallet. Download Hide Archive Label today and make your archive pages more alluring!