WordPress 5.8 "Tatum", a major WordPress release was released on July 20, 2021 with so many new features and enhancements. And we're ready to announce that Catch Plugins is now WordPress 5.8 Ready!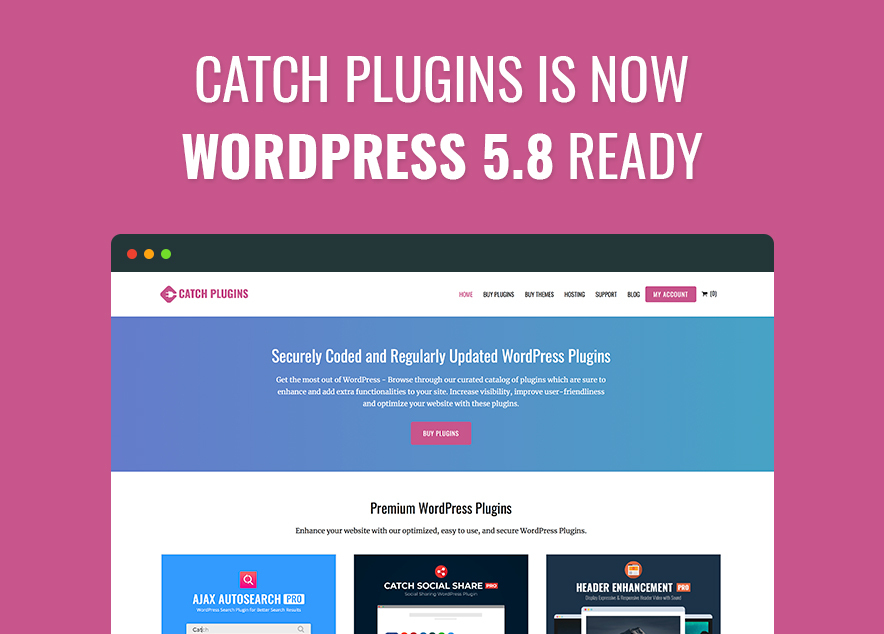 Staying up-to-date with the latest updates in WordPress is vital while being in the WP Plugin development field. Therefore, we've made sure you don't face any issues or problems with our WordPress plugins while running WordPress 5.8. All of our WordPress plugins are updated, tested, and polished!
WordPress 5.8 is here with so many exciting features and behind the scenes, we have been working on all our premium and free plugins for quite some time now. We've been testing all our plugins for compatibility with WordPress 5.8 with the help of 5.8 RCs. And now, we have made sure that all our plugins (Free and Pro) are completely compatible with the updated version, WordPress 5.8.
After upgrading to WordPress 5.8, you will not face any issues while using our WordPress plugins. However, make sure you're running the latest plugin updates we've provided.
We feel very happy to serve you with our updated and 5.8-ready WordPress plugins.
For those who are not yet ready for the change and want the classic old-style editor, you can download the Classic Editor Plugin for free. Also if you're not a great fan of the widgets setting screen after updating to WordPress 5.8, you can activate the Classic Widget Plugin and switch to the classic widget screen like before.
Nevertheless, if you still find any issues, please report them to our Support Forum. We're always here to help.
Let's Start Updating!
Since the new version includes several major changes, it is definite that thousands of themes and plugins are not compatible with the release and might bring issues to your website. So, we recommend that you do not run the update directly on your production site. Instead, consider setting up a test site to play around with the newest version first. And if everything seems fine for you then you can go to your main site.